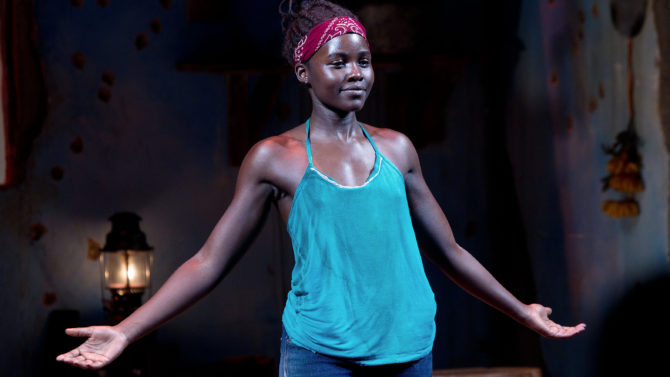 In a new essay written for Lena Dunham's Lenny Letter, Lupita Nyong'o describes her decision to perform in the Broadway play Eclipsed, instead of starring in big on-screen roles.
Eclipsed, written by The Walking Dead's Danai Gurira, was nominated for six Tony Awards Tuesday. It tells the story of five women who, during the Liberian Civil War in 2003, are trapped by a rebel commander. Nyong'o writes that the work is like running a marathon every night but admits that she would rather be part of a small production than accepting any role in Hollywood.
"I'm an actress; why wouldn't I want to be in an incredible, gorgeous, meaty piece about the complicated choices of women during wartime?" she wrote. "I have recently decided to participate more fully in the development of roles I choose in the future… at the moment I am onstage, night after night, with four incredible actresses, telling a powerful story about women who are rarely given a complex rendering."
Adding, "I look at this play — it's the first play on Broadway to feature an all-woman cast, playwright, and director, and the fact that we are all women of African descent makes it even more incredible — and I feel profound gratitude to be a part of it. I am proud of my decision to take the time to sit with myself and not get caught up in what others want for me."
She goes on to note that she prefers characters that have their own emotional journey as opposed to playing secondary roles for the sake of working. And, thanked Tilda Swinton, Cate Blanchett, and Viola Davis for their performance choices, going beyond playing "trope" roles and defying what the industry expects from them.
"I think as women, as women of color, as black women, too often we hear about what we 'need to do.' How we need to behave, what we need to wear, what's deemed as too much or not enough, the cultural politics of what society considers appropriate for us and for our lives," the essay reads. "As an African woman, I am wary of the trap of telling a single story… The chance to appear in Eclipsed after winning an Oscar was an opportunity to share in the incredible (and too rare) freedom of playing a fully rendered African woman. The playwright, Danai Gurira, has conceived a drama where the only people onstage are women… So often women of color are relegated to playing simple tropes: the sidekick, the best friend, the noble savage, or the clown. We are confined to being a simple and symbolic peripheral character — one who doesn't have her own journey or emotional landscape."
The 33-year old says she appreciates being part of a project that's opening the eyes of the world to stories by and about black women: "I see a work of incredible power that is transforming lives by daring to offer women of color fully rendered narratives, and I feel so lucky to be a part of it."
Eclipsed is currently playing on Broadway.