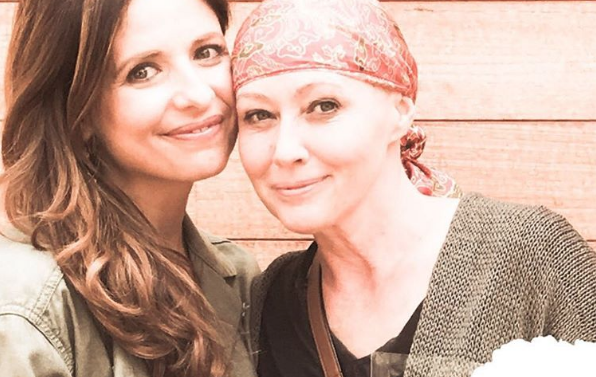 Shannen Doherty is fighting for her life and she's blessed to have good friends in her corner that are supporting her along the way. Sarah Michelle Gellar posted a touching photo calling the Beverly Hills 90210 alum her "muse" via Instagram with a sweet message of support.
"My #mondaymuse (and really every day #muse) is my brave friend @theshando. I've always said she is one of the most loyal friends I've ever known, and now while she is facing the toughest journey of her life, she is sharing it with friends she has never met in the hopes of helping other people who are going through the same struggle. That's a true friend #FuckCancer"
The post has received more than 72.5 likes and nearly 1000 messages since the photo was posted on Monday.
Doherty was diagnosed with breast cancer in 2015 and recently she announced that it had spread. In July she shaved off her hair, documenting it all via her official Instagram account.
"Each persons cancer journey is different," Doherty posted with a photo of her dog. "For me, chemo has been terrible and believe me, we have tried almost everything. So days like this have become a bit of the norm. I'm learning that it's ok to fall into bed and give in to the exhaustion or nausea or aches. I've learned a lot of that thru all the beautiful people who have shared their personal stories with me right here on Instagram. Thank you. Btw, it doesn't hurt to have ‪#‎msbowie‬ comfort me So back to my nap. Thank you for your prayers, well wishes and stories. They help so much."