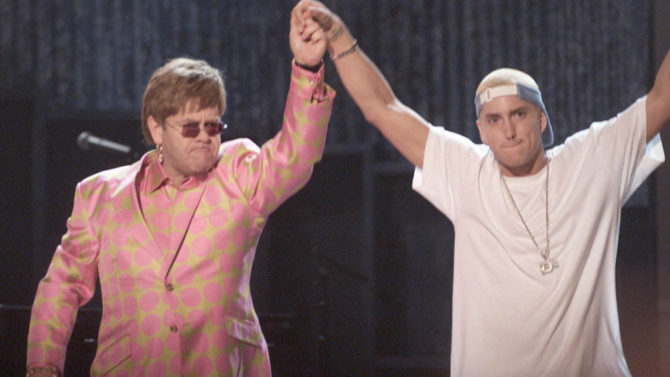 The 58th Annual Grammy Awards are only a few days away. Each year top music artists gather to celebrate their achievements in music but like many other awards shows not everything goes as planned. Here are some of the most insane, jaw dropping, controversial moments that have kept audiences at the edge of their seats.
1 – Last year, Kanye West pulled another one of his stunts. When Prince announced Beck as the winner of Album of the Year for "Morning Phase" beating Beyonce, Sam Smith and Pharrell Williams, West was compelled to take over the stage and interrupt Beck's acceptance speech.
2 – Over the years, other stage crashers have also made headlines. In 1998, Michael Portnoy, a performance artist hired to serve as a background dancer, decided to rip his shirt off and crash Bob Dylan's performance by dancing around like a crazed maniac. The dancer had the words "Soy Bomb" written across his chest.
3- 50 Cent also crashed the stage at the 2004 Grammys after losing in the Best New Artist category. Evanescence took home the trophy that year but 50 Cent rained on their parade by interrupting the rock band's acceptance speech.
4- In another strange Grammy moment, Shawn Colvin's win for Song of the Year resulted in a stage crash by Wu-Tang Clan's Ol' Dirty Bastard, who stole the mic from Colvin to praise his group.
5- Here's a tearjerker. In 2012, Jennifer Hudson received a standing ovation after performing Whitney Houston's "I Will Always Love You." Houston died on February 11, 2012, the night before the Grammys were set to air.
6- Who can forget Elton John and Eminem's duet in 2001? At the time, the rapper was celebrating the release of his new album The Marshall Mathers LP. But his new record began to receive criticism from the LGBT community for his use of homophobic slurs. The singer maintained he wasn't homophobic, but it wasn't until the 2001 Grammy Awards when John joined Eminem on stage to perform "Stan," that the homophobic allegations were officially put to rest.
7- Also rounding out the list is Jennifer Lopez's legendary Versace dress that left very little to the imagination in 2000. 
8- Other notable moments include Nicki Minaj's 2012 performance, which was highly criticized after the singer took the stage dressed as a religious figure to sing "Roman Holiday."
9- And finally, Rihanna and Chris Brown's first public appearance together in 2013, four years after the couple's violent altercation in 2009.