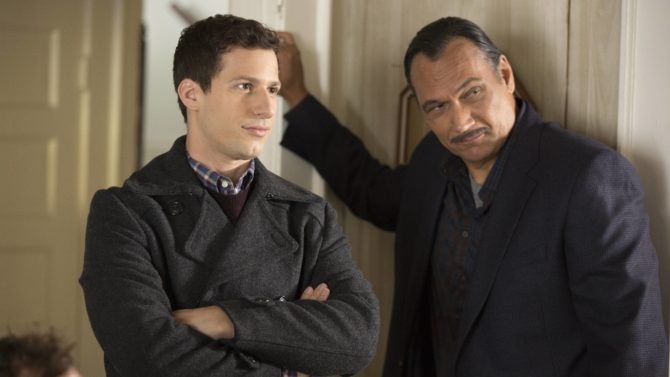 Jimmy Smits is known for bringing to life some of the most memorable dramatic characters on television and film. But after watching the 61-year-old on Tuesday's episode of Brooklyn Nine-Nine, you'll wonder whether he should spend more time working on comedies in the future. Smits stars as Amy Santiago's (Melissa Fumero) overprotective dad Victor in the hilarious Thanksgiving episode, where he gets to spend a lot of time with her boyfriend Jake (Andy Samberg).
Smits, who is currently shooting 24: Legacy also for Fox, spoke to Variety Latino about switching gears and dabbling in the comedy realm for a bit as well as who inspired his funky mustache and slick-back hair for the episode. He also gave some insight into how a little kismet played into him landing the guest starring role.
"That was something that just happened," Smits told Variety Latino about getting the role on Nine-Nine. "I was at a photoshoot for the new Fox shows, so all of us from 24 were there to do ours. While I was changing, I saw a wardrobe rack that said Brooklyn Nine-Nine on it. So I spoke to the wardrobe guy, I think his name is Wesley. He's responsible for all this happening. I asked him, 'are these guys coming? It's one of my favorite shows.' I love that show because I love Barney Miller and I love the way that they cast the show. It's the way that I look at New York. So I mentioned this to Wesley and he told me they had talked about me before. I know Andre [Braugher] from way back. He told me that the cast would love to meet me, and he set the whole thing up. So I talked to Stephanie [Beatriz] and I told her how much I love the show. So she and Melissa went to Dan Goor, the creator of the show and he said, 'yeah, let's write him in!'"
Since this was a totally new role for Smits, he thought he would have some fun with his look. He had just finished work on a Netflix series and was getting ready to start shooting 24: Legacy in Atlanta, so he looked into his own family for inspiration.
"I said, 'what am I gonna do?' I had just finished doing The Get Down and I'm playing this other serious guy on [24:Legacy] so I told them the only way I would do the show if they let me do something a little bit different look wise. He's like one of my tios [uncles] or Super Mario!"
Although Smits doesn't get much screentime with his TV daughter Fumero the veteran actor admits he learned a lot by working with comedian Sandberg.
"I was very impressed with Andy's work," he said. "He's got a heavy load and he's very prepared. I actually told him this and he thought I was bullshitting around but I said, 'I learned a lot from you, bro.' That's the thing about this business, once you think you got it all under wraps that's when you start getting [complacent]. He was very prepared, and because of that it allows him to be more improvisational and that wacky humor that he has. He goes fast, then he starts riffing. I was very impressed with him. It allowed me to also riff. I was more concerned about wanting to play being real and not cartoony but at the same time to honor that it is a comedy too."
Adding, "I did a movie with Ellen Barkin that Blake Edwards directed and I remember him saying to me, 'I see these things you do on L.A. Law, these little comedic moments you have and I think you should play around with that a little bit more and I really haven't. Even when you're supposed to be doing something dramatic, life can be hysterical sometimes so you always try to find a little light somewhere."
Watch Smits on Brooklyn Nine-Nine, November 22 at 8pm on Fox.