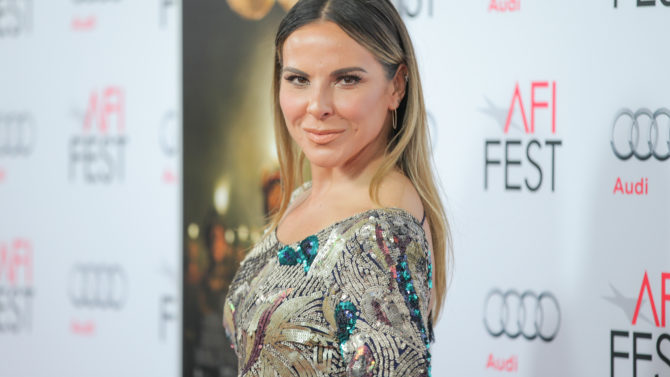 Kate del Castillo was set to make her Netflix Originals debut in 2016 with the series Ingobernable. Although the premiere date has been pushed back, the Mexican beauty can't wait for audiences to see it. Variety Latino spoke to del Castillo recently at the launch of her tequila brand Honor Tequila about when we can expect to see the series.
"I'm so excited for it to premiere," del Castillo told Variety Latino. "The date got pushed a little bit and now it's going to be early in 2017. I just have no idea because [Netflix] is very secretive. Even though I'm a lead on the show, I have no idea what they're up to but they know what they're doing.
In the Spanish-language political drama, del Castillo stars as Mexico's first lady Irene Urzua. Like many of the powerful women roles she's played in the past including her most famous to date as Teresa Mendoza in Telemundo's La Reina del Sur, Irene is a woman to be respected and not messed with. Netflix describes her as a woman capable of "creating a president, leaving a president and killing a president."
"It's funny because I do not seek these types of roles," she explained. "They either come to me or they are attractive roles for me to play. I think all actresses look for roles that are meaty with something you can chew on. A role that you can enjoy every single morsel. I'm very excited for everyone to meet this new character. Playing the first lady of Mexico is something, especially right now with what's going on with me and what's going on in Mexico. It's going to be tough, but it's a very nice part to play."
Adding, "She navigates somewhere in the gray area. You know what I love about this show? We're all humans. She's full of flaws and that makes her human. We all seek whatever our heart wants and whatever we think is right."
The 44-year-old confirmed that the cast has wrapped shooting that was originally set to shoot in Mexico but was later moved to San Diego. When asked whether any shooting had actually taken place in Mexico, del Castillo would neither confirm nor deny.
"I don't know if I'm allowed to say," she said while laughing. "So let's just say [audiences will see] a little bit of different worlds."
So what would del Castillo change if she could really be the first lady of Mexico?
"I think to change something in Mexico, we'll have to wait years because it has to happen from the root. We have so many flaws as a system and as a government that as Mexicans we need to come together and we need to remember everything. We just don't have memory and we forget everything then everything is ok. Mexicans have been hurt in so many ways. So the first thing that I would do, would be to invest in education because an educated country would be very difficult to manipulate or lie to."