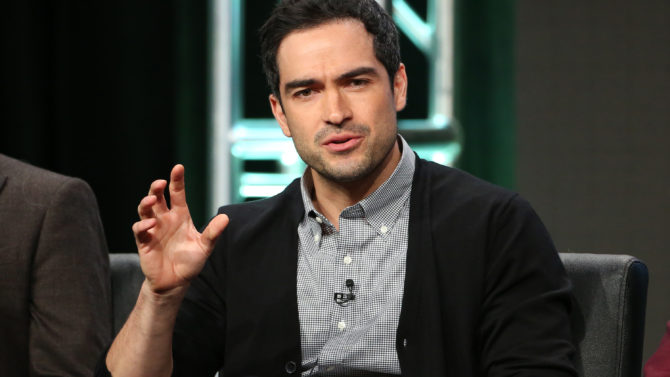 Alfonso Herrera is not a fan of spoilers, but he is willing to tease fans a little bit about what they can expect from the freshman season of The Exorcist. The series, set to debut on Friday, September 23 on Fox, stars Herrera as Father Tomas Ortega who eventually becomes the title character. The 32-year-old spoke to Variety Latino about what audiences can expect from the series based on one of the most frightening films ever made.
"It's going to be scary but something that I really like about the show is the fact that it's very grounded, Herrera told Variety Latino. "Understanding that it talks about this iconic movie that was made 40 years ago, it's a great responsibility and a great opportunity to do something interesting with this genre, especially on network TV."
At the center of the tale is the Rance family, led by matriarch Angela played by the legendary actress Geena Davis. One of her daughters is showing signs of being troubled in a way that is not normal, so she reaches out to Father Tomas for help.
"When I first have contact with Geena Davis character Angela Rance, we are all thinking that it's a family crisis. But we don't understand. And it's that specific event that transforms the life of every single character on the show. As the show advances and evolves, it's going to get more creepy and more interesting at the same time."
Father Tomas shows very early in the pilot that he has some very special abilities. Though Herrera would not get too specific about his character's talents, he did share more of what he thought is going through his mind.
"I'm not a big fan of spoilers but he has these strange visions, at least that's what he thinks— at least that's what Alfonso the actor is thinking," he explained. "It's this call from a certain entity, from a certain energy, and he sees that as a signal that he has to do something. He has to transform himself and not just exercise the demons and negative entities around ourselves but also our own demons. Demons that have to do with fears and doubts. Those fears don't only exist with priests but with every single person that exists. You have them, I have them. I would guess that every single person in this room has those fears."
Those fears don't only exist with priests but with every single person that exists. You have them, I have them. I would guess that every single person in this room has those fears."