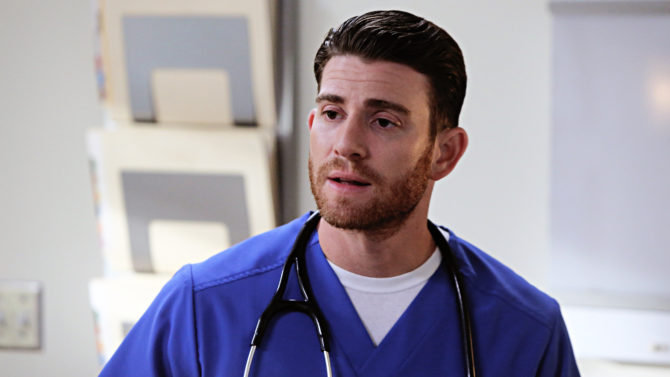 Mindy Lahiri (Mindy Kaling) was met with having to make a major decision in the season 5 premiere of The Mindy Project, and we're happy to report she picked neither Danny (Chris Messina) nor Jody (Garret Dillahunt). The reality of it all is that Mindy needed to pick herself instead of either of the guys making romantic gestures towards her because neither really deserved her. She's definitely not without faults, but Danny was ready to marry someone else and Jody makes a better friend and business partner than a love interest.
In the second episode entitled "Nurses' Strike," we're introduced to Ben, a nurse at baby Leo's pediatrician and someone who will be involved with our quirky protagonist. Bryan Greenberg who guest stars as Ben this season spoke to Variety Latino about why this unusual pairing might actually work.
"You'll meet Ben in episode 2, which is also when a nurse's strike will be happening," Greenberg told Variety Latino during a set visit. "There's this whole division between nurses and doctors so when I meet Mindy, she's a doctor and the enemy. There's not a lot of common ground there. She's a very elitist Manhattan doctor and I'm a very working class regular nurse from New Jersey. They don't have a lot in common but I think the opposites thing creates a lot of good comedy."
In the episode, we don't learn much about Ben other than he's nurse and that he has a 13-year-old daughter. As the season progresses, however, you'll learn that he's gone some secrets he's hiding.
"You're going to learn a lot about Ben," Greenberg promised. "That's the cool thing about working on the show, they've really created a great character. You're going to not just meet Ben but also get into his world and the people in his world: friends, family, past enemies. In later episodes, we get to peel back the onion a little bit. I don't want to give away too much but I die…[laughs] But I come back. It's like a Jon Snow type thing.
Adding, "He's a well-rounded character, he's not just this charming nurse guy. He has some flaws and we find out some of those secrets and they have to work through them."
Kaling is just as excited to have Greenberg playing her love interest mainly because his character is so different from any of Lahiri's past loves.
"A lot of times Mindy starts these romances with guys who are very different than her but we've never had a guy on the show whose character is so different in a very specific way," she told Variety Latino. "Ben is a nurse and they're in different socioeconomic brackets and their backgrounds are completely different. This is unlike most of the guys that Mindy dates who are rich, drug-addicted, or doctors or lawyers. This guy has never been to therapy. He's a single dad and so it's really new and different for my character who doesn't necessarily was brought up with the same values as him."
One thing the duo does have in common is that they're both single parents. Mindy's son Leo is still a toddler while Ben's daughter is already a teenager.
"Ben is a single father and so they have that in common. It's fun because there's an episode where Mindy comes to New Jersey and it's just so funny to watch her character get on the train and not know how to use it. She takes the subway often but the path is different. If you've ever been to New York and New Jersey, there's a big difference between them. I love how the writers play with it. Throwing Mindy into that world is really funny to watch."
They have this combative, funny relationship. I just call her out on her bullshit all the time. But I'm also kind of a nerd, I'm into comic books. But there's a genuine attraction between them, there's a lot of heart too. Ben is very grounded and I think it freaks her out because she's so used to the drama. We have some really good stuff together and I can't wait for everybody to watch."
The first two episodes of The Mindy Project are available on Hulu right now. New episodes are added to the streaming service every Tuesday.