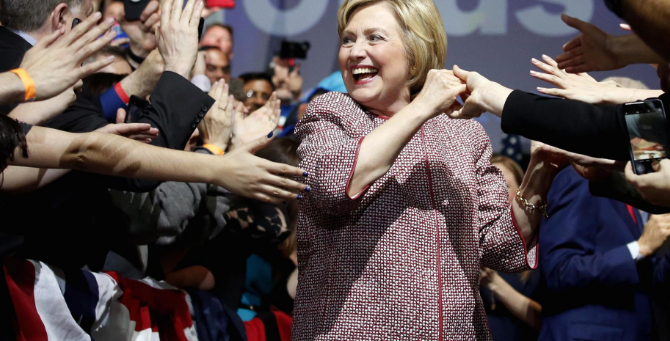 Hillary Clinton recibió una oleada de críticas después de que saliera a luz un informe diciendo que lució una chaqueta Giorgio Armani valorada en más de $12.000 dólares durante un discurso sobre la desigualdad salarial, de acuerdo con información facilitada por The New York Post.
Para ser exactos, la candidata demócrata a la presidencia de los Estados Unidos se gastó $12,495 en la prenda. Este dato ya sería digno de mencionar en cualquier ocasión, pero tratándose de una candidata liberal y de que además decidió lucirla en un mitin en el que habló de desigualdad social, señores y señoras, la polémica está servida.
Por su parte, la exsecretaria de Estado ha tenido que cambiar su vestuario durante su carrera presidencial por cuestiones de imagen, aunque no parece que este argumento esté convenciendo a la opinión pública, que ha estallado especialmente en las redes sociales.
You would think someone would say: "Hey, Hillary, maybe don't give this speech on inequality wearing a $12k jacket" https://t.co/pTGFlW6BdD

— Sarah Westwood (@sarahcwestwood) June 6, 2016
"Uno pensaría que alguien diría 'Hey, Hillary, quizás no deberías dar este discurso sobre desigualdad llevando una chaqueta de $12 mil dólares'", dijo la reportera del Washington Examiner Sarah Westwood.
Hillary gave the speech in a $12,495 Giorgio Armani tweed jacket, uhmm..yeah she knows all about being poor, right? https://t.co/VEc9acSi0r

— MedicalQuack (@MedicalQuack) June 6, 2016
"Hillary dio un discurso luciendo una chaqueta gruesa de Giorgio Armani de $12.495 dólares, […] ella sí que lo sabe todo sobre ser pobre, ¿verdad?", tuiteó una ciudadana.
Comparada con Sarah Palin, cuyo vestuario de campaña ascendió a $150 mil dólares, el valor de esa chaqueta no parece tanto…pero, claro, Sarah Palin y Hillary Clinton tienen una agenda política completamente distinta. Y las expectativas de sus votantes también difieren.