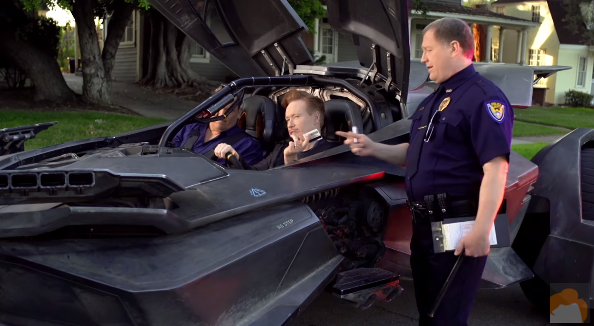 Conan O'Brien invited the cast of Batman v Superman: Dawn of  Justice to his show on Thursday but before he welcomed the stars to the stage he treated himself and Andy Richter to a sweet and almost deadly cruise ride on the Batmobile.
In the pre-taped bit, Conan and Andy are looking to rent a car for the week, after being offered a Toyota Corolla and the Chevy Malibu at a local car rental shop, Conan finally decides to upgrade and pay an extra five dollars to rent the Batmobile.
The two rock out to some 90s dance jams, play around with Batman's voice modulator, try out the cars cloaking feature, exceed the speed limit by about 400 m.p.h, and accidentally set off a deadly weapon. Watch the full clip above.
In February, O'Brien traveled to South Korea with The Walking Dead star Steven Yuen. His wild oversee adventures will finally be aired in a special episode, titled "Conan in Korea" on April 9th.
The extended episode will chronicle O'Brien's week long trip to South Korea, including a visit to the Korean Demilitarized Zone (DMZ) and the Joint Security Area (JSA). The comedian also made a cameo appearance in an a Korean drama and a K-Pop music video with J.Y. Park.
Conan airs at 11 p.m. on TBS.