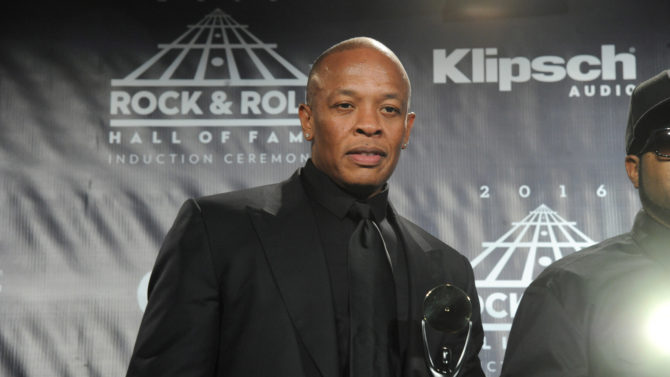 Dr. Dre is threating to sue Sony Pictures if they move forward with the release of the biopic about R&B singer Michel'le. The Lifetime TV film entitled Surviving Compton: Dre, Suge & Me, tells the story about the woman who was engaged to and had a son with Dr Dre and married to Death Row Records co-founder Suge Knight with whom she has a daughter with. The reason he's upset over the Sony production is because it depicts him as a woman beater.
According to TMZ, Dre's lawyers have sent Sony a cease and desist letter not to air the made-for-TV film or else. The outlet is claiming the letter states that Dre never abused Michel'le and that in the 30 years since they were together she never hinted about him abusing her. It also states that no police report was ever filed nor medical attention sought out for alleged injuries.
What Dre is claiming, however, is not true. Documented proof available online shows Michel'le talked about the abuse as early as 2013 during a reunion episode of R&B Divas. She told host Wendy Williams her ex broke her nose and gave her black eyes. She spoke out again after the release of Straight Outta Compton in 2015. While many people are alleging she was upset her story was left out of the N.W.A. hit, she told The Breakfast Club she was given 5 black eyes and broken bones.
In August of 2015, Dre released a statement to the New York Times apologizing to the women he's hurt. Though he did not name names of specific women, the apology was believed to be aimed at Michel'le and hip-hop journalist Dee Barnes. Barnes has alleged for many years that she was beat up by Dre at a nightclub bathroom in 1991.
"Twenty-five years ago I was a young man drinking too much and in over my head with no real structure in my life. However, none of this is an excuse for what I did. I've been married for 19 years and every day I'm working to be a better man for my family, seeking guidance along the way. I'm doing everything I can so I never resemble that man again."
He added: "I apologize to the women I've hurt. I deeply regret what I did and know that it has forever impacted all of our lives."
Michel'le told Huffington Post she's not afraid of him challenging her credibility.
"If he would like to take me to court and sue me, then we should both do our depositions so we can get the story right," she said ahead of the release of her biopic. "And I have witnesses, so I don't think people are gonna get up there and say, 'No we didn't see anything.'"
Surviving Compton: Dre, Suge, & Me is set to air on October 15.