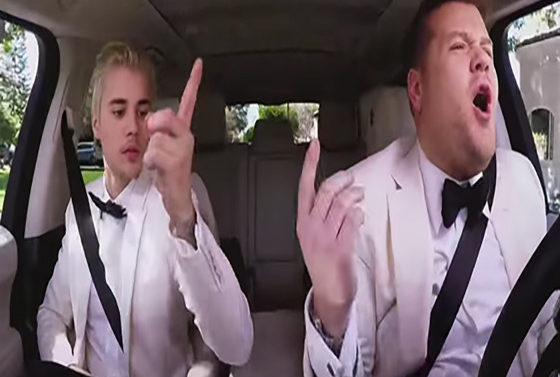 Justin Bieber and James Corden joined forces once again for another hilarious Carpool Karaoke ride. The first time Grammy-award winner made a special post-awards show drive with The Late Late Show host Monday night.
First on the playlist "Uptown Funk" by Bruno Mars, who took home the Grammy for Record of the Year for his mega-hit song. Corden channeled the funk singer while Bieber played backup. Both donned matching white tuxedos.
The two later reviewed the awards show, praising Adele for her performance of "All I Ask" and gushing over the evening's host, LL Cool J.
"He's a real, real stud," Bieber admitted, before saying a few kind words about Corden. "I appreciate you. I appreciate the character you come with," Bieber gushed. "I appreciate your heart. You're such a kind individual. You love people."
SEE ALSO Rudy Giuliani Calls Beyoncé's Super Bowl Halftime Show an "Attack" on Police
The video aired moments after Bieber won the award for Best Dance Recording along with Diplo and Skrillex for "Where Are U Now".