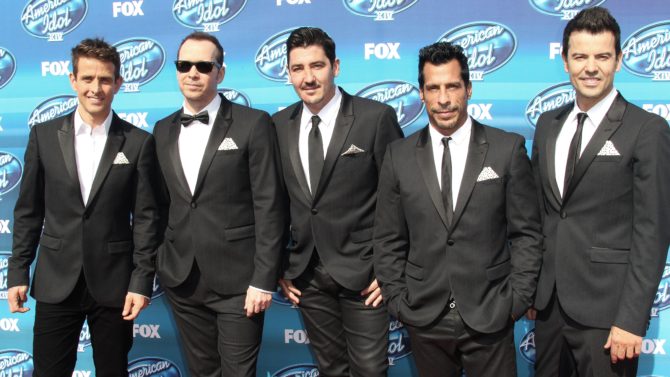 Grab your denim tour jackets and oversized buttons, the New Kids on the Block are headed to Fuller House! Donnie Wahlberg, Joey McIntyre, Jonathan Knight, and Danny Wood will make a special appearance during season two.
According to TV Guide, Kimmy (Andrea Barber) and Stephanie (Jodie Sweetin) mess up plans for D.J.'s (Candace Cameron-Bure) birthday so they try to hire her favorite band from Beantown to make it up to her. Even after so many years have passed since NKOTB was the biggest boy band in the world, there are not many women who were teenagers in the '90s that wouldn't die to have these guys at their party today.
No official word yet as to whether or not Uncle Jesse (John Stamos) will join them on stage like he does with The Beach Boys.
The network confirmed the news via Twitter, sharing a photo of Candace, Andrea, and Jodi wearing tour shirts with the boys on it.
".@candacecbure @JodieSweetin @andreabarber got The Right Stuff to welcome some special guest stars! @NKOTB #NKOTBFH"
If you can't wait for the episode to air, watch this clip of the Fuller House gang dancing to the band's 1988 hit, You Got It (The Right Suff). New episodes of the show are set to stream via Netflix later this year.