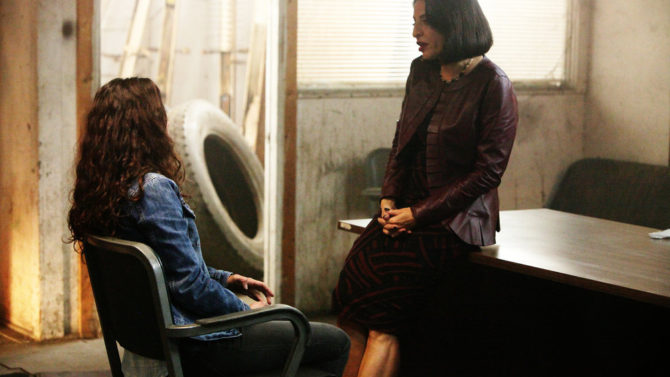 Things are heating up for many of the characters on Queen of the South. Veronica Falcon (Camila Vargas) is feeling a noose continue to tighten around her neck and drug supply now that Epiphanio (Joaquim de Almeida) is aware of all that she is up to. She's now lost a whopping five million dollars with no product to show for it and is starting to lose business to her competitor. That's very bad for business and it's shocking that it's taken Veronica so long to catch on to her husband's plan. Who knows him better than she does?
She also knows Teresa (Alice Braga) is up to something but she's not quite sure what it is just yet.
In this exclusive clip for episode 107 entitled "El Hombre Pajaro," Veronica confronts Teresa about some non-sanctioned joy riding she's been partaking in. She's putting her on the spot and if she doesn't have receipts to back up her claims, she'll find herself in a lot of trouble.
Thus far Teresa has proven herself to be quite clever and resourceful, so don't be surprised if she comes up with some documentation out of thin air.
Official Episode Description:
Teresa's desire to escape grows with an opportunity to obtain papers. Desperate for product as "The Birdman" (Brent Smiga) encroaches further on her territory, Camila, (Verónica Falcón) taps into her last cash reserves to make a critical drug buy and sends Teresa and James (Peter Gadiot) out on a midnight mission to deliver 5 million in cash. Brenda (Justina Machado), pressured by the dwindling supply of cocaine in town, makes a decision that puts her crew at grave risk.
Tune into an all-new episode of Queen of the South, Thursday night at 10pm only on USA.