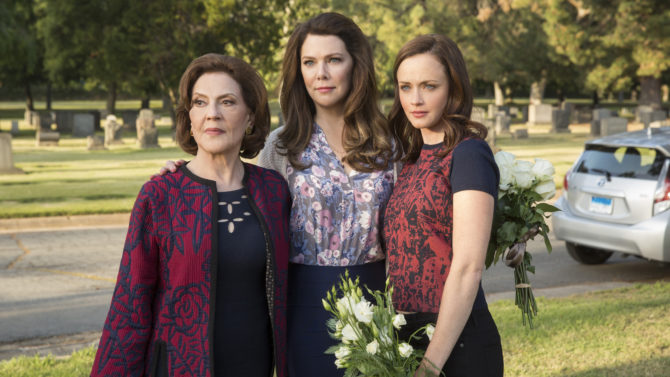 This Thanksgiving you'll be extra grateful because Netflix is releasing 4 new episodes of Gilmore Girls to enjoy the next day along with your leftover turkey. Gilmore Girls: A Year in the Life premieres on November 25 and all your favorite stars are coming back including Lauren Graham, Alexis Bledel, Scott Patterson, and Kelly Bishop.
According to the streaming service, the story is told through four 90-minute chapters — each spanning one season: Winter, Spring, Summer, Fall — and brings back to life everything from the quaint corner diner to the dreamy Dragonfly Inn to a fast-talking, quick-witted mother-daughter love story unlike any other.
A new teaser trailer was released on Facebook showing Stars Hollow residents Lorelai (Graham) and Rori (Alexis Bledel) having a very familiar chat about food. Luke (Scott Patterson) is hesitant to make tater tots until Lorelai promises they're organic. Basically, not much has changed since last we saw this trio on TV!
The part that has fans going crazy is a quick shot of Rori with Jess (Milo Ventimiglia) and she's cheering while Luke stands in the background while wearing a tuxedo. So much to process, so little time. Luckily fans only have 8 more days before they find out exactly what's transpiring.
Watch the teaser below: