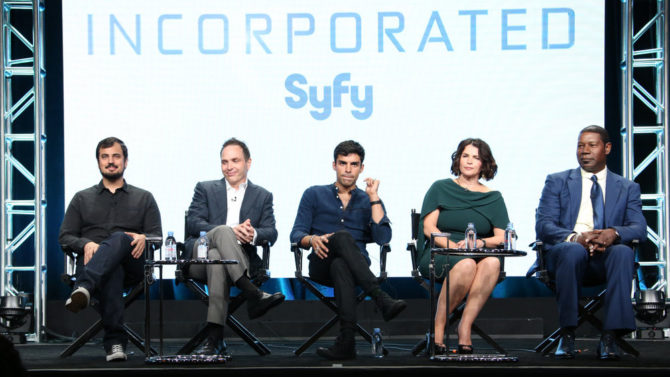 Syfy unveiled the first trailer for their newest original series, Incorporated during the Television Critics Association press tour on Wednesday. The futuristic thriller is from Matt Damon, Ben Affleck and Jennifer Todd's Pearl Street Films in collaboration with CBS Television Studios and Universal Cable Productions.
Here's the official description from Syfy:
Set in a near future where corporations have unlimited power, Incorporated follows Ben Larson (Sean Teale), a young executive who conceals his true identity to infiltrate a dangerous corporate world to save the woman he loves. But he'll soon learn that he's not the only one whose secrets may have deadly consequences.
In addition to Teale, the series stars Golden Globe® nominee Dennis Haysbert (24) as Julian, Emmy® Award-winner Julia Ormond (Mad Men) as Elizabeth, Allison Miller (Terra Nova) as Laura and Eddie Ramos (Teen Wolf) as Theo.
The show is created and co-executive produced by Alex Pastor and David Pastor (Selfless, The Last Days), with Ted Humphrey (The Good Wife) serving as executive producer/showrunner.
Incorporated is set to premiere on Wednesday, November 30 at 10/9c only on Syfy.