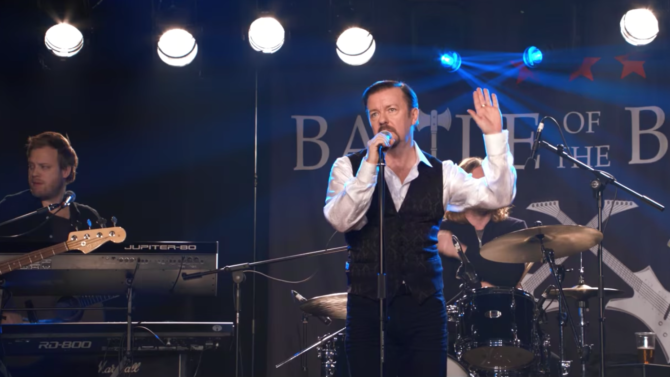 Ricky Gervais is bringing David Brent back from The Office in his own Netflix spin-off film, David Brent: Life on the Road. Brent has moved on from his time as the cringe-inducing general manager of the Slough branch of Wernham-Hogg paper company. He's now a traveling salesman and frontman for the band Foregone Conclusion.
"He doesn't get it. It's quite sad, Gervais said about Brent who is now 55-years-old. "He's searching for something. What he's doing now is he's repping. He's in a big, cold office, not as cozy as Wernham Hogg; it's more anonymous. He's a rep, he's out selling toiletry products and women's hygiene products: tampon dispensers, urinal lozenges, you name it. And he's cashing in pensions, cashing in his paid holiday, because he's paid to put a band together, mercenary session musicians who are just doing it for the money.
It's just a gig for them. He's trying to relive the days of when he was in a band, in the Eighties. It's really sad. He thinks he's going to get signed. It is quite tragic because he's been sold the lie that anyone can become famous because Simon Cowell told us they can. He doesn't quite get it."
David Brent: Life on the Road will debut on Netflix in 2017 and in UK theaters on August 19.