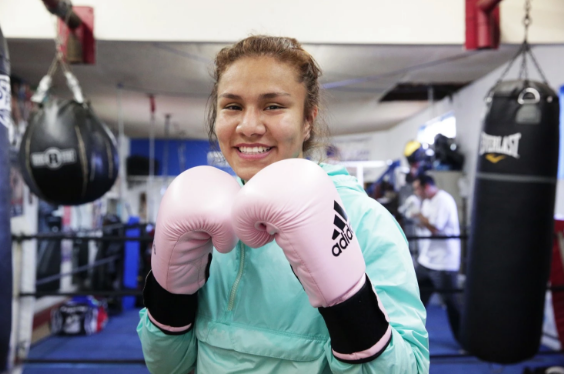 Gold Medal Families is premiering tonight on Lifetime and we have an exclusive look at one of the athletes, boxer Jajaira Gonzalez. The series will showcase six Olympic hopefuls and their families, revealing the extraordinary lengths, economic hardships, and personal sacrifices they all go through to get their elite athlete to the podium of the world games.
Gonzalez is a 19-year-old from California who was born with boxing in her blood. Her father, Jose, was a street boxer in Guadalajara before coming to the US, and her brothers Joet and Jousce are boxing powerhouses in their own right. With her younger brother JonJairo officially walking away from boxing and her youngest brother Jason living with cerebral palsy, Jajaira is more determined than ever to make a name for herself in the women's boxing world.
While training with her family, Jajaira also plays her part in helping to support them, cleaning houses alongside her mother Sofia, to help make ends meet. Boxing means everything to the Gonzalez family who will do anything to get to the Olympics.
Tune in to watch the Gold Medal Families premiere tonight, Tuesday, June 28 at 9 PM ET/PT on Lifetime.
0625_GMF_EP101_JAJAIRA_DAD PUSHING DAUGHTER TO BE GREAT from Matt Duclos on Vimeo.