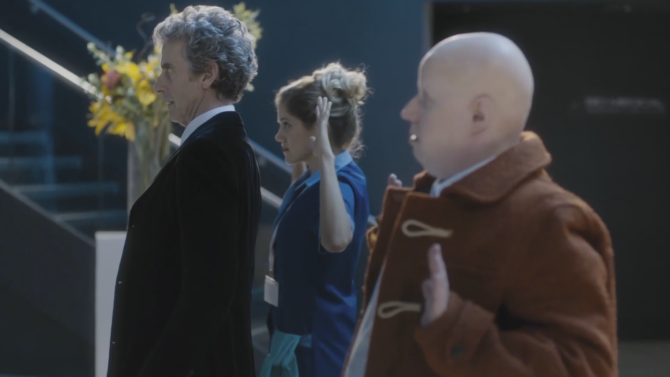 The BBC has released new footage of the Doctor Who Christmas Special titled The Return of Doctor Mysterio as part of Friday's telethon benefitting "Children in Need." In this new promo, Doctor Who (Peter Capaldi) ends up being held up at gunpoint alongside an investigative journalist named Lucy Fletcher (Charity Wakefield) and Nardole (Matt Lucas) by the villan (played by Aleksandar Jovanovic). Things start looking confusing before a masked superhero named Ghost, played by Shameless star Justin Chatwin, swoops in through the window of a building with at least 100 floors like Superman.
"Oh my God, he's real," Fletcher says after seeing Ghost standing outside the building window in the new promo. The Doctor asks, "Who's real?" She responds, "The Ghost, masked vigilante but he's super." The Ghost asks the group, "Mind if I come in?" The bad guy responds, "Impressive. Those windows, like everything in this building, are built to withstand blasts equivalent to four nuclear explosions." The Ghost responds, "Sory about that. Would you like me to call a glazer?"
The Doctor Who Christmas Special will air both in America and the U.K. on December 25.