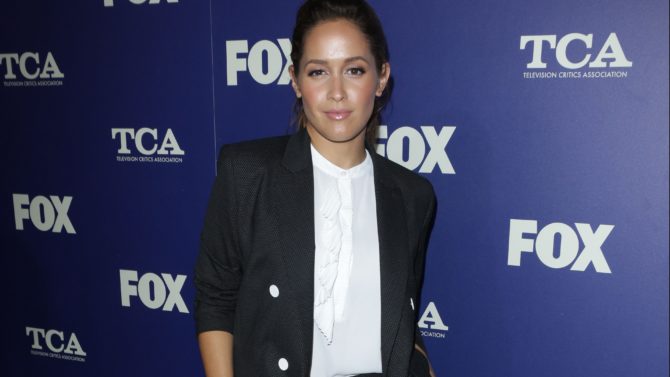 Things go from lukewarm to fire hot between Detective Villa and the new medical examiner Adrian Webb on this week's episode of Rosewood. As you can see in an exclusive clip from Fox below, the duo share at least one steamy scene that takes place in an elevator in the 9th episode of season two titled, "Half-Life and Havana Nights" airing Thursday night at 8pm.
Jaina Lee Ortiz, who brings Villa to life each week, spoke to Variety Latino about that status of this new relationship with the M.E. (played by Eric Winter) and whether or not it could throw a wrench into a future between her character and Dr. Beaumont Rosewood (Morris Chestnut).
"Adrian has been pursuing her for some time and she's constantly turning him down," Ortiz told Variety Latino on Wednesday. "So finally, she gives in and then they spend time together. It's kind of just lust at first because she's a little disconnected. She isn't swept off her feet. He's not the love of her life. He's not Rosewood! I guess she's just having fun and going with the flow. She has no intention of a relationship, she's just having fun."
Although this starts out as "just lust," don't expect to say goodbye to Adrian anytime soon. According to Ortiz, he's going to be sticking around for the foreseeable future.
"He's in [episodes] 10, 11, and 12 a lot, she explained. "He's not in 13 but he'll be back for the remainder of the season for sure. Things will continue to evolve and to grow between Adrian and Villa and it may turn into something serious or something long term? It's hard to say. I think [the writers] are still trying to figure out how the season is going to end."
In Thursday night's episode, Villa and the team head to Cuba to do a little investigating into Donna's (Lorraine Toussaint) friend Gerald (Robert Wisdom) so they can finally close up the case. And while professional salsa dancer Ortiz won't be doing any dancing in Havana, she promises she will be back on the dance floor.
"No dancing for Villa just yet, however, there will be dancing between Villa and Adrian. They go on a double date with Rosie and someone else. I can't say who."
Ortiz won't say what that means for Rosewood and his current girlfriend Tawnya (Letoya Luckett), but she's still hopeful for a future between him and Villa.
"Let's put it this way, we're both in a really good place as friends and as partners. We're now both in our own personal relationships. But I feel like that chapter is still open. It hasn't closed yet. I'm really excited to see what happens with them."