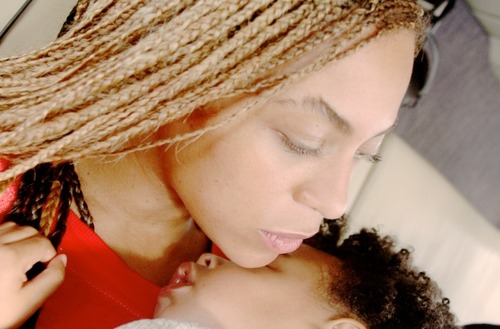 La mamá más cool del mundo compartió fotos de su princesa.
Obviamente estamos hablando de Beyoncé y su pequeña Blue Ivy.
El jueves 29 de mayo la Beyoncé subió fotos de su "play-date" con su linda bebé de 2 añitos.
http://24.media.tumblr.com/70e1e7ec33112e77429eb5e67a9286a1/tumblr_n6cqx6kfZa1sdyhiwo1_500.jpg
No es común ver tantas fotos de la hija de Beyoncé y Jay-Z, asi que tómenlo como un regalo:
http://24.media.tumblr.com/0f6ed2d079b927614074d98104044e86/tumblr_n6d5fnFg9m1rk0wp3o1_500.jpg
Aquí vemos a la pequeña Blue con las zapatillas de su mami.
¡Qué suertuda! Como quisiéramos poder entrar al closet de la Reina Bey…
http://37.media.tumblr.com/0d6bdd618d014c09a47d6a37510b0fbd/tumblr_n6csi8tU8z1qm4p56o1_500.jpg
También la vemos con los pies descalzos mientras juega tenis. ¡Qué cute!
http://24.media.tumblr.com/ad3e6b53f70a480b8c25511581a585e9/tumblr_n6d5hxECQR1rk0wp3o1_500.jpg
El fin de semana pasado la familia fue vista bajando de un jet privado regresando de su viaje a los Hamptons para el feriado de Memorial Day.
VER TAMBIÉN: Jayoncé de vacaciones en vez de ir a la boda de Kimye 
Según rumores, la pareja no asistió la boda de Kim Kardashian y Kanye West por evitar un enfrentamiento con la diseñadora Rachel Roy, quien supuestamente fue la razón por la que la familia tuvo una pelea con Solange Knowles (la hermana de Beyoncé) despues de la Met Gala a principios de este mes.
Muy pronto fans podrán ver a Bey y Jay juntos en su nueva gira "On The Run." Los boletos ya están a la venta.
 "Who run the world…¡Beyoncé y Blue Ivy!