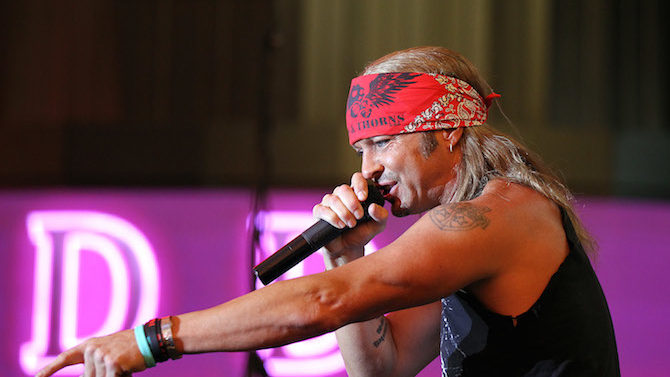 Al parecer los cantantes no la están teniendo fácil con los problemas de salud porque ahora nos llega la noticia de que Bret Michaels, el ex vocalista de Poison, sufrió una descompensación en el escenario de New Hampshire el día de ayer, mientras realizaba un concierto.
En el Facebook del cantante, el guitarrista que lo acompaña Pete Evick, explicó la condición de Bret Michaels y dijo que luego de tres canciones con la banda en la ciudad de Manchester, el cantante se desvaneció en el escenario.
Según explicó Evick, el problema fue una baja en el azúcar, debido a que el cantante de 51 años tiene diabetes tipo I.
"Cuando corrí hacia el autobús, él apenas hablaba y me rogó que le pidiera disculpas a sus fans, parecía sólo estar preocupado de ellos." dijo.
VER TAMBIÉN: Lady Gaga pospone conciertos por bronquitis
Recordemos que Michaels también incursionó en la televisión en distintos programas como el de VH1 "Rock of Love with Bret Michaels", donde el cantante buscaba a alguna chica que lo acompañara en su vida de rockero y también el 2010 ganó el reality "Celebrity Apprentice", donde recaudó fondos para la  Asociación Americana de Diabetes.
Los cercanos de Michaels agradecieron a los paramédicos a través de Twitter.
VER TAMBIÉN: Taylor Swift cancela concierto en Tailandia
Esta no es la primera vez que Michaels sufre una emergencia médica ya que en abril de 2010, fue trasladado de urgencia al hospital por una apendicitis y más tarde sufrió una hemorragia cerebral masiva que pudieron estabilizar, los doctores dijeron en ese momento que Michaels era "muy afortunado".
Esperemos que lo de ahora no sea nada grave y se mejore para que siga rockeando