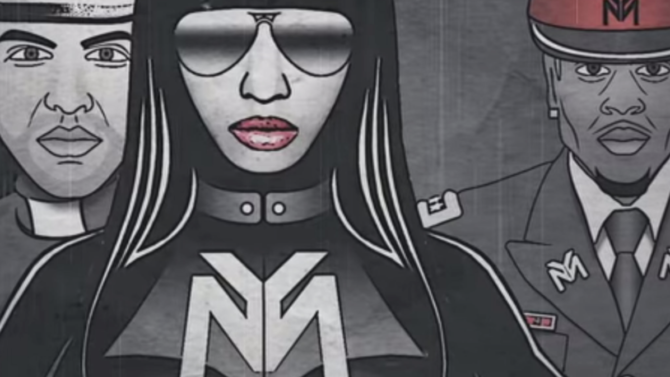 Esta vez no fueron los atributos de Nicki Minaj que acapararon la atención del público en su nuevo video musical "Only", ahora fueron unos símbolos que aparecen en el clip que recuerdan a la era nazi de Adolf Hitler.
Minaj se convierte en una líder y obviamente tiene a todos rendidos a sus pies en este video, pero su reino está lleno de dibujos que recuerdan mucho a una swástica nazi.
La propaganda de la dictadora en cierta forma refleja a esa de de Hitler aunque la rapera ha negado rotundamente que su video animado tenga algo que ver con nazis.
"El artista que hizo el video de 'Only' fue inspirado por la caricatura 'Metalocalypse & Sin City' y de hecho los productores del video son judíos".
Aún así, Nicki asumió responsabilidad y pidió disculpas a cualquiera que haya ofendido. "Nunca condonaría nazismo en mi arte".
En el video también aparece Chris Brown como un guardia, Drake como un sacerdote y Lil Wayne. Todos alabando a the one and ONLY: Nicki Minaj.
¿Crees que los símbolos en el video reflejan nazismo?