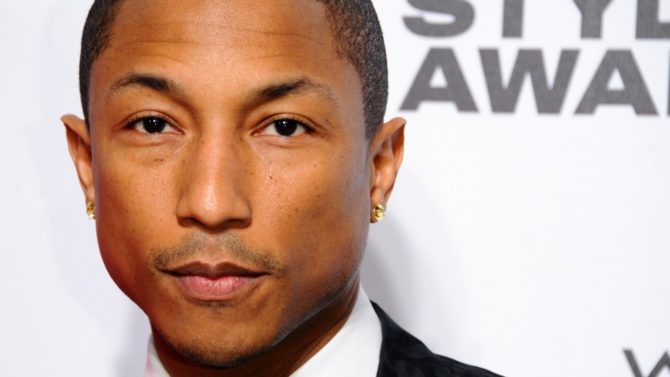 El año pasado parecía que el cantante y productor de música Pharrell Williams estaba en todas partes, produciendo "Blurred Lines" de Robin Thicke y "Get Lucky" de Daft Punk, sencillos que fueron los más exitosos del año. Williams ahora se encuentra en mayor demanda, gracias a gran parte a su primera nominación al Oscar. Su canción "Happy" de la película "Despicable Me 2," está nominada a la Mejor Canción Original.
Actualmente, Williams se encuentra trabajando en el álbum de canciones de la película "The Amazing Spider-Man 2," con el famoso compositor Hans Zimmer y también está finalizando su nuevo álbum "GIRL," que saldrá el 3 de marzo, el día después de los Oscars.
"Imagínense si todos los conductores en el mundo fueran mujeres, si todos los presidentes fueran mujeres, este es mi regalo para ellas," dijo Pharrell sobre el álbum en una conferencia de prensa en Londres. "Este álbum está dedicado a todas las mujeres en el mundo."
El álbum incluye colaboraciones con Justin Timberlake , Miley Cyrus, Daft Punk, Alicia Keys y Jojo, quien hace su regreso al mundo artístico con "Freq," una canción bonos del álbum. Pero si no te puedes esperar a oír su nuevo álbum, óyelo en iTunes Radio en estos momentos.
Aquí está la lista de canciones completa:
1. "Marilyn Monroe"
2. "Brand New" con Justin Timberlake
3. "Hunter"
4. "Gush"
5. "Happy"
6. "Come Get It Bae" con Miley Cyrus
7. "Gust of Wind" con Daft Punk
8. "Lost Queen" / "Freq" con JoJo
9. "Know Who You Are" con. Alicia Keys
10. "It Girl"
¿Recuerdan el sombrero enorme de Vivienne Westwood que Williams lucio durante los premios Grammy? Resulta que el cantante lo está subastando para la caridad en Ebay. Actualmente, la oferta presente es de $15,100. Todos los fondos de la subasta beneficiaran a From One Hand to Another, una organización fundada por Pharrell en 2008 para ayudar a niños con herramientas y recursos para que logren su potencial. La subasta se cerrará el 2 de marzo a las 5 pm PST.