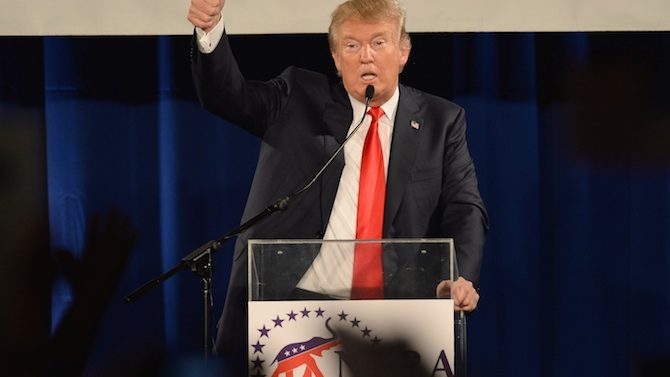 Jimmy Fallon anunció la lista de invitados que asistirán a The Tonight Show de NBC durante la próxima semana. Entre la gente que se paseará por el plató del programa de variedades se encuentra Donald Trump, candidato a la presidencia de Estados Unidos. Esta será la primera vez que el carismático conductor entreviste al controversial millonario.
El comunicado de prensa de la televisora afirma que Trump se presentará el viernes 11 de septiembre en el show para discutir su sonada campaña presidencial y otros asuntos de interés general. El hecho de que su participación tome lugar en una fecha tan delicada como lo es el aniversario del atentado en contra del World Trade Center de Nueva York seguramente influenciará la conversación.
VER TAMBIÉN Bill Maher dice que comentario de Donald Trump a Jorge Ramos fue racista
El actor Terrence Howard y el músico Pharrell Williams también formarán parte de ese episodio. En las últimas semanas Fallon ha discutido las ideas de Trump con otros invitados en el show y hasta ha imitado en varias oportunidades al ex conductor de The Apprentice.
Esa misma semana Fallon tendrá otros invitados de lujo. Jessica Simpson, Richard Gere y Keith Urban el 8 de septiembre; Justin Timberlake, Ellen DeGeneres, Macklemore y Ryan Lewis el 9 de septiembre; y Andy Samberg y Carrie Underwood el 10 de septiembre.