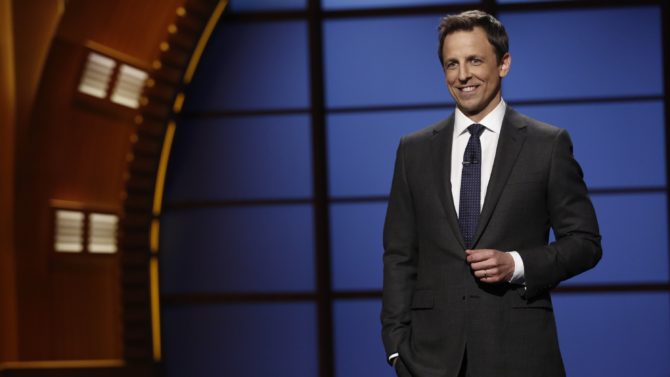 Seth Meyers está teniendo un año fenomenal, y ahora tendrá la oportunidad de ser el anfitrión de los Emmy Awards.
Ayer se anunció que el conductor de "Late Night with Seth Meyers" será el encargado de ser el presentador de los premios el 25 de agosto.
VER TAMBIEN: "Late Night with Seth Meyers" reseña de su debut 
El equipo de "Late Night" mandó el siguiente tweet, felicitándolo.
Hace dos meses Meyers reemplazó a Jimmy Fallon en "Late Night" ya que Fallon se convirtió en el sucesor de Jay Leno en "The Tonight Show."
Seth también fue nombrado por la revista TIME como una de las personas más influyentes del mundo en su más reciente edición.
VER TAMBIEN: Beyoncé cubre la portada "Time 100" de la revista Time
Amy Poehler, quien fue su primera invitada en su debut de "Late Night" escribió algunas palabras del comediante para la revista.
"Sabe escuchar y es un gran escritor, pero su más grande talento es el gusto que tiene por ayudar a otros (…) "Late Night" lo necesita y tenemos suerte que haya llegado," escribió su amiga Amy.
¡Felicidaes a Seth! Se lo merece…