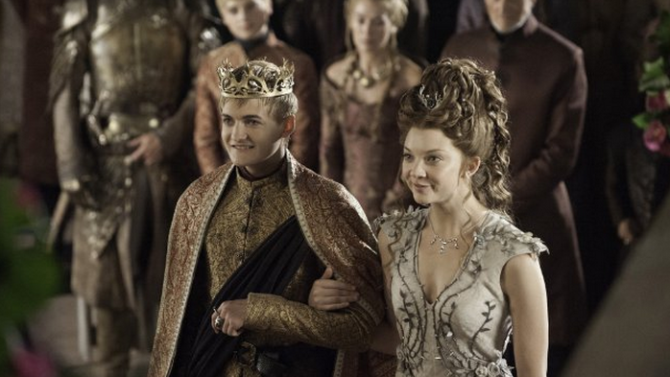 Ayer fue el segundo capítulo de "Game of Thrones" llamado "La Boda Púrpura" y como ya es habitual con esta serie las reacciones en las redes sociales no se hicieron esperar.
ALERTA DE SPOILER: Si no viste el capítulo de ayer no sigas leyendo.
Bueno… alguien murió, pero eso no es novedad, sólo que esta vez murió uno de los malos. ¡Ehhh!
Ya estamos acostumbrados a que alguien muera en esta serie, pero esta vez le tocó la mala suerte a la familia Lannister.
¡Ya era hora!
Así es, los fanáticos de "Game of Thrones" no escondieron su alegría al enterarse de la muerte del malvado Rey Joffrey, sin duda, uno de los personajes más odiados en la historia de la televisión.
VER TAMBIÉN: HBO renueva 'Game of Thrones' por dos temporadas más
Al contrario de la "Boda Roja" de la temporada pasada donde murió el hijo mayor y la mamá Stark, esta vez los fanáticos sintieron que al fin "se hizo justicia".
Estas son las reacciones más divertidas que tuvieron las celebridades en Twitter:
La actriz Anna Kendrick estaba tan feliz que hasta ofreció unos traguitos para celebrar el capítulo.
Mindy Kailing en tanto dijo que Joffrey era uno de sus personajes favoritos.
Mientras que el escritor Stephen King no se lo mandó a decir con nadie y expresó su alegría.
El actor Zach Braff en tanto bromeó con un detalle sobre la boda.
El actor Josh Gad dijo que nunca había estado tan feliz con una muerte. ¡No te sientas mal Josh! A nadie le caía bien Joffrey.
Finalmente Ellen DeGeneres dijo que ha escuchado tanto sobre el show que quiere empezar a verlo.
¿Qué te pareció el capítulo?