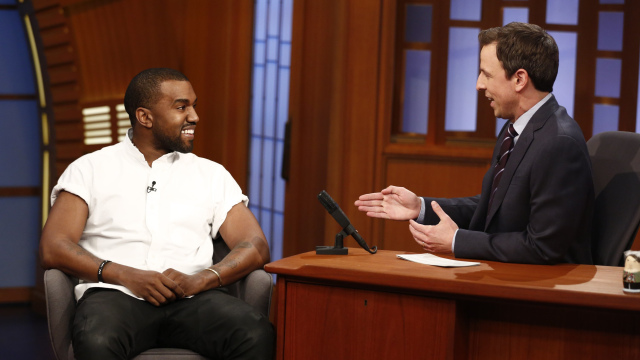 Cuando Kanye West hace algo, lo hace de manera extravagante. Desde su interpretación de "Bound 2" en "Late Night With Jimmy Fallon," a su actuación visualmente impactante en "Saturday Night Live," el rapero de 36 años tiene un don para crear momentos y el martes por la noche no fue la excepción.
El año 2013 fue un año exitoso y controversial para West quien se comprometió y tuvo su primera hija North West con Kim Kardashian, y apareció en los titulares con noticias de su nueva música, y sus respuestas "interesantes" en ciertas entrevistas. En el segundo episodio de "Late Night with Seth Meyers" anoche, el rapero se sentó con el nuevo anfitrión y platicó sobre su reciente gira "Yeezus," la cual que se terminó este fin de semana, su incursión al mundo de la moda, su primer álbum "College Dropout," y la paternidad, entre otras cosas.
"Estoy en el proceso de romper barreras," le dijo a Meyers cuando el tema se dirigió a sus intentos de ir más allá de la música y entrar en el negocio de la moda con su propia línea. "Sería genial si tu tuvieras una empresa de moda; podrías invertir y apoyarme," dijo cuando Meyers expresó su apoyo, que Meyers luego agregó "Estoy contento que me dieron un programa de entrevistas."
Y la mejor parte de su visita vino más adelante en el show cuando interpretó un medley de canciones que incluyó "Jesus Walks", "Touch the Sky", "Stronger", "Heartless", "All of the Lights", "Mercy", y "Black Skinhead."
Mira la actuación y su entrevista en Variety.com.