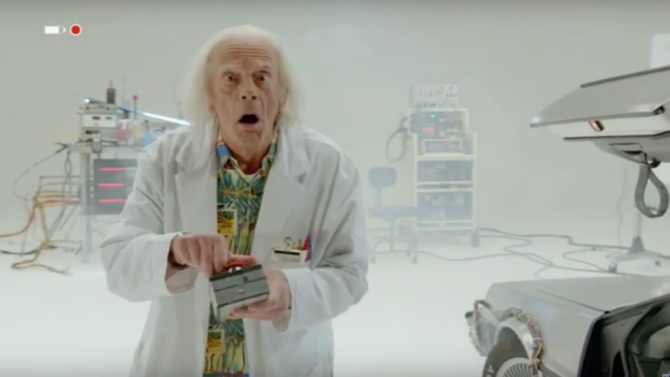 Back to the Future cumple 30 años de haber sido estrenada en cines este 2015. Por motivo de esta celebración Universal Studios ha lanzado un adelanto de Doc Brown Saves the World, un nuevo cortometraje protagonizado por el mismísimo Doctor Brown (Christopher Lloyd) que estará incluído en la nueva edición de DVD/Blu-ray que el estudio de cine lanzará al mercado para celebrar la importante fecha.
En el clip que puedes ver a continuación se puede ver al famoso "Doc" bajarse del Delorean. Al parecer el científico tendrá bastantes problemas técnicos en esta aventura nunca antes vista a juzgar por este fugaz adelanto:
Las celebraciones no terminan aquí pues el famoso Radio City Music Hall de la ciudad de Nueva York reunirá a Lloyd junto a James Tolkan, quien encarnaba a Mr. Strickland en esta serie de películas dirigidas por Robert Zemeckis, para dos exhibiciones especiales de este clásico del cine en un evento conocido como Back to the Future in Concert. En este show la Orquesta Sinfónica de New Jersey se encargará de tocar la banda sonora del filme en vivo.
"Estamos absolutamente encantados que el Sr. Lloyd y el Sr. Tolkan sean capaces de unirse a estas dos emocionantes proyecciones", dijo Steve Linder, uno de los productores del proyecto.
Back to the Future in Concert sucederá el 15 y 16 de octubre. La nueva colección en Blu-ray/DVD de la trilogía saldrá a la venta el 20 de octubre. El 21 de ese mismo mes los fanáticos podrán revivir las tres películas en la pantalla grande pues se reestrenarán en cines selectos de EE.UU.