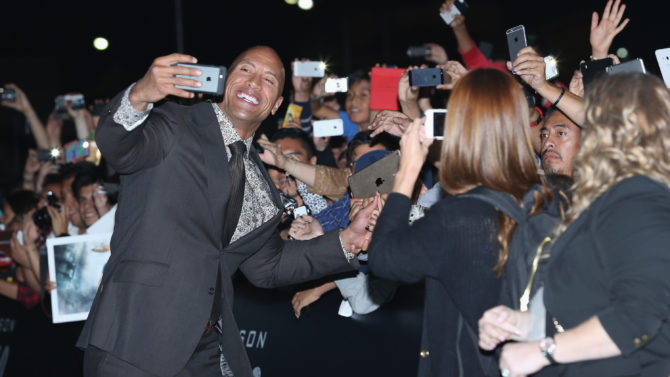 Dwayne Johnson le acaba de arrebatar el título a Kim Kardashian de tener las selfies más famosas pues el actor rompió récord al tomarse 105 selfies en tres minutos.
El actor de 43 años recibió el reconocimiento del Guinness World Record por lograr tomarse todas esas fotografías durante la premiere mundial de su película San Andreas en Londres. Los fans estaban más que dispuestos de posar al lado de Johnson quien luego dio la gran noticia y agradeció a todos los que le ayudaron lograr esta hazaña.
"Lo logramos, Londres", dice The Rock en el video presumiendo su certificado.
Pero no crean que fue fácil romper este récord ya que las selfies tenían que tener los siguientes requisitos para ser aceptadas. Debían incluir las caras completas de The Rock y el fan de turno -incluyendo el cuello- y el retrato tenía que estar totalmente enfocado. El sitio oficial del Guinness World Records señaló que "varias selfies fueron descalificadas pero un total de 105 fueron aceptadas para poder lograr el título".
La nueva película de Johnson trata sobre el desastre natural más grande que haya sacudido a California. El actor interpretará a un paramédico encargado de salvar la vida de muchos -incluyendo de su esposa e hija- durante este terremoto. ¿Será que con esta peli también rompa récord en las taquillas?
San Andreas se estrena este viernes 29 de mayo.