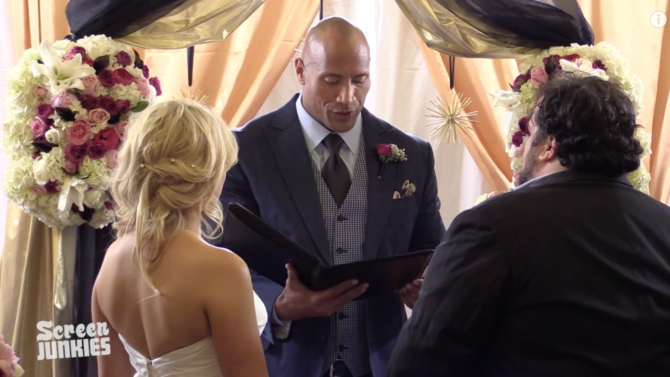 El reportero de Screen Junkies, Nick Mundy, pensó que sería el peor día de su vida cuando no pudo entrevistar a Dwayne Johnson por su nueva película San Andreas ... Pero que le hayan negado hacerle una entrevista a la estrella -quien también es su gran amigo- tenía una explicación.
The Rock estaba preparándose para darle la sorpresa de su vida a Mundy al oficiar su boda civil. Mundy no estaba al tanto de estos planes ni de que se casaría ese día pero obviamente no le quedó de otra más que casarse porque no siempre llega la oportunidad de que Johnson oficie tu boda.
Aquí la crónica de la llegada de Mundy al altar de la mano de su amigo The Rock.
El actor de Hollywood se prepara para estrenar su próximo "blockbuster" San Andreas que trata sobre el temblor más grande en la historia de California cuya fuerza podría terminar con el mundo.
Johnson interpreta a un paramédico que intenta salvar a todos los que puede, ¡incluyendo a su esposa (Carla Gugino) y su hija (Alexandra Daddario)! San Andreas llega a las salas de cine este 29 de mayo.