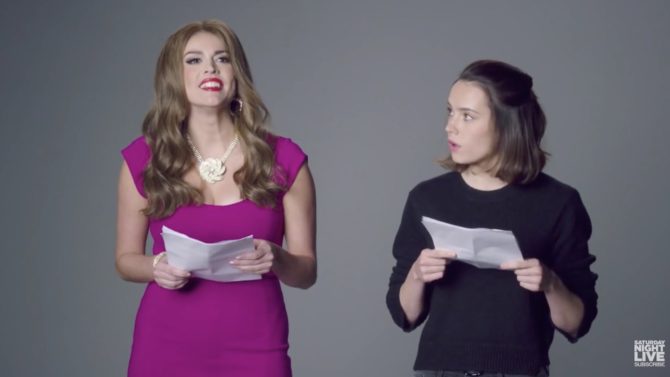 J.J. Abrams compartió las audiciones de algunos de los actores que quisieron formar parte de Star Wars: The Force Awakens. Todo esto formó parte de un sketch de Saturday Night Live donde el elenco de este show cómico imitó a algunas de las más grandes estrellas de Hollywood, quienes al parecer quisieron un rol en la esperada cinta de ciencia ficción, entre ellos Sofía Vergara, Danny Devito, David Beckham, el mismísimo George Lucas (creador de este fantástico universo) y otros.
En el video aparece Cecily Strong como Vergara audicionando junto a Daisy Ridley, quien le da vida al personaje de Rey en este nuevo capítulo de la saga. Es acá cuando "Vergara" confunde a los BB-8 con Minions. Luego el turno es de Beckham (Taran Killam), quien confunde al pequeño robot circular con una pelota y lo patea.
El clip tiene unas cuantas sorpresas como la aparición del verdadero Jon Hamm y de la legítima Emma Stone. El protagonista de Mad Men señala que el personaje para el cual está audicionando, en vez de llamarse Han Solo, debería llamarse Hamm Solo, y Stone le dice al director que ella podría hacerse pasar por una mujer asiática ya que en Aloha su personaje tiene ascendencia china.
Aquí tienes el divertido video:
Star Wars: The Force Awakens se estrena en cines el 18 de diciembre.