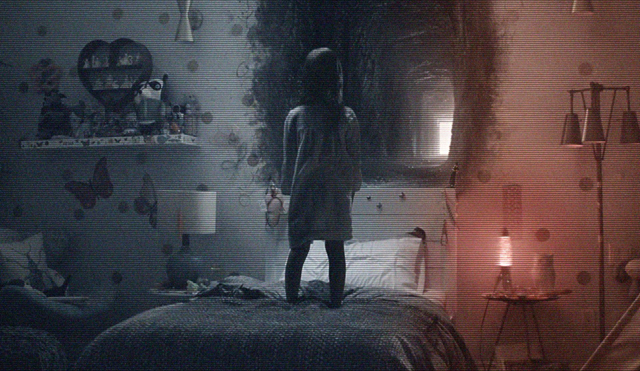 NUEVOS DETALLES 6.23.15:
Paranormal Activity: The Ghost Dimension estrenó su primer teaser trailer y te dejará los pelos de punta.
ANTERIORMENTE 6.22.15:
Ya se reveló el primer grupo de imágenes de Paranormal Activity: The Ghost Dimension, la más reciente entrega de esta taquillera franquicia de películas de terror.
La cinta está dirigida por Gregory Plotkin y sigue a los integrantes de la familia Fleeges, quienes al mudarse a una casa descubren una cámara de video y una caja de cintas en el garaje. Cuando miran a través de la videograbadora, la familia empieza a experimentar la actividad paranormal que ocurre a su alrededor. Los fanáticos se deleitarán con el retorno de las hermanitas Kristi y Katie.
VER TAMBIÉN: Nuevo trailer de 'The Green Inferno'
Jason Blum, productor de la película, confesó en una entrevista reciente que The Ghost Dimension, responderá todas las preguntas que los fans tienen acerca de la franquicia y que ninguna secuela ha respondido hasta los momentos.
VER TAMBIÉN: Fox hará remake para la televisión de 'Rocky Horror Picture Show'
El reparto incluye a Chris J. Murray, Brit Shaw y Ivy George. El guión fue escrito por Adam Robitel y Gavin Heffernan. The Ghost Dimension embrujará las salas de cines el 23 de octubre, justo a tiempo para celebrar Halloween.
¿Se asustaron con estas nuevas imágenes? ¿Están listos para la más reciente entrega de la franquicia?