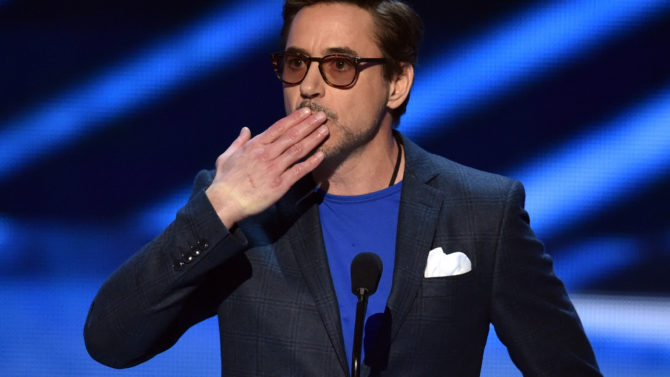 Honor a quien honor merece, Robert Downey Jr. será honrado en los MTV Movie Awards el próximo 12 de abril con el premio MTV Generation Award. Lo mejor de todo es que el actor reconocido por su rol de Iron Man estará recibiendo el premio de las manos de sus amigos y colegas de "Avengers" como Scarlett Johansson, Mark Ruffalo, Chris Evans, Chris Hemsworth y Jeremy Renner.
"A lo largo de su carrera, Robert Downey Jr. ha hipnotizado a la audiencia al capturar la humanidad de personajes como Charlie Chaplin, Sherlock Holmes y Tony Stark. Es un actor brillante y un ícono de Hollywood y estamos orgullosos de reconocer su tremenda pasión y talento con este premio" explicó MTV a través de un comunicado. Otros actores que han recibido este premio incluyen a Sandra Bullock, Adam Sandler, Jim Carrey, Reese Witherspoon y Johnny Depp.
Pero RDJ y su pandilla de superhéroes no sólo subirá al escenario por este premio sino también, nos darán un clip exclusivo de "Avengers: Age of Ultron" de 90 segundos que veremos durante la ceremonia de premios.
El evento se llevará a cabo en el Nokia Theatre donde se reconocerá lo mejor del cine, entre las cintas nominados vemos a "Gone Girl", "Boyhood", "Guardians of the Galaxy" y "Selma". Jennifer Lawrence, Shailene Woodley, Ansel Elgort y Bradley Cooper están entre los nominados.
¡Felicidades Robert Downey Jr., te mereces esto y mucho más!