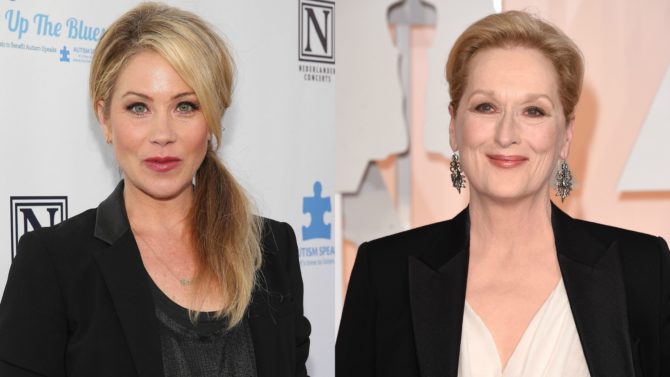 Christina Applegate interpreta a la galardonada Meryl Streep en una parodia realizada por Funny or Die. ¿De qué va todo esto? El video es básicamente una demostración de los dotes actorales de la protagonista de Married With Children en una supuesta película de Lifetime, canal norteamericano que produce biografías no autorizadas de muchas series y de personalidades del mundo del entretenimiento como Elizabeth Taylor, basada en la vida profesional de la veterana actriz de Doubt.
En el clip la rubia imita a la ganadora del Oscar en algunas de sus películas más famosas como es el caso de Adaptation.
¿Qué otros filmes forman parte de este hilarante clip? Applegate se aseguró de incluir proyectos bastante interesantes como una escena de Julie & Julia, otra de Kramer vs. Kramer, un momento protagonizado por un desafinado canto extraído directamente de Mamma Mia y no podía faltar una secuencia de The Devil Wears Prada, momento en el cual la voz en off de este adelanto falso admite que no pudo haber existido peor casting que el de Christina para el rol de Meryl según declaraciones de la crítica especializada.
Acá tienes el video completo: