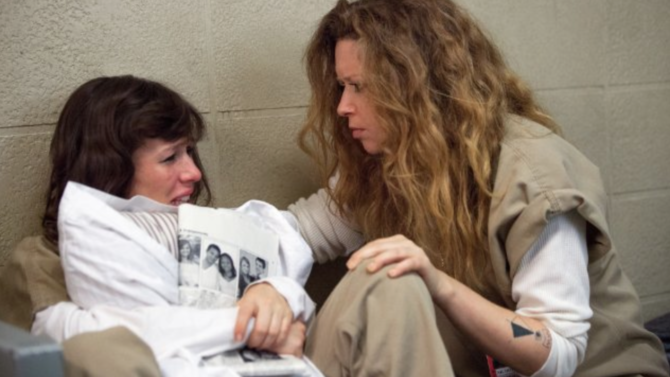 Los premios que galardonan a aquellos programas, actores, artistas y periodistas que realmente representan de manera correcta a la comunidad lésbica, gay, bisexual y transgénero (LGBT) dieron a conocer los nominados a la entrega número 26 de los GLAAD Media Awards.
En total hay 144 nominados, incluyendo a latinos como el programa "Aquí Y Ahora" por el informe "Vínculos y rupturas", el Noticiero Univision por su reportaje "Ya no hay obstáculos" y cabe mencionar que Los Tigres del Norte estarán recibiendo un reconocimiento especial por su nueva canción "Era Diferente" que trata sobre una joven quien se enamora de su mejor amiga.
Las series "Looking" de HBO, "Orange Is the New Black" de Netflix, y "How To Get Away With Murder" de ABC cuentan con una nominación. Así como la actriz transgénero Laverne Cox por su documental "The T Word" y el cantante británico Sam Smith por su disco "In the Lonely Hour".
Los premios se llevarán a acabo el 21 de marzo desde The Beverly Hilton en Los Ángeles.
Aquí la lista completa de los nominados:
OUTSTANDING FILM – WIDE RELEASE
The Imitation Game (The Weinstein Company)
Love Is Strange (Sony Pictures Classics)
Pride (CBS Films)
The Skeleton Twins (Roadside Attractions)
Tammy (Warner Bros. Pictures)
OUTSTANDING FILM – LIMITED RELEASE
Dear White People (Lionsgate)
Life Partners (Magnolia Pictures)
Lilting (Strand Releasing)
The Way He Looks (Strand Releasing)
Will You Still Love Me Tomorrow (Film Movement)
OUTSTANDING DRAMA SERIES
Degrassi (TeenNick)
The Fosters (ABC Family)
Game of Thrones (HBO)
Grey's Anatomy (ABC)
How to Get Away with Murder (ABC)
Last Tango in Halifax (PBS)
Masters of Sex (Showtime)
Orphan Black (BBC America)
Pretty Little Liars (ABC Family)
Shameless (Showtime)
OUTSTANDING COMEDY SERIES
Brooklyn Nine-Nine (FOX)
Faking It (MTV)
Glee (FOX)
Looking (HBO)
Modern Family (ABC)
Orange Is the New Black (Netflix)
Please Like Me (Pivot)
Sirens (USA Network)
Transparent (Amazon Instant Video)
Vicious (PBS)
OUTSTANDING DAYTIME PROGRAM EPISODE
"Cementerio homófobo" Caso Cerrado (Telemundo)
"Maestro despedido por [ser] gay" Caso Cerrado (Telemundo)
"Un mundo de juegos" La Rosa de Guadalupe (Univision)
OUTSTANDING TELEVISION INTERVIEW
"Abigail Pereira participante transgénero de Yo Soy
El Artista" Suelta La Sopa Extra (Telemundo)
"En cuerpo ajeno" Un Nuevo Día (Telemundo)
"Felicia en Ventaneando: Platica sobre su transformación"
Ventaneando (Azteca)
"Identidad Sin Fronteras: Inmigrantes transgénero buscan
nueva vida en EEUU" Despierta América (Univision)
"Intolerancia familiar" Realidades en Contexto (CNN en
Español)
OUTSTANDING DOCUMENTARY
"Identidad sin fronteras" Panorámica (Univision/Pivot)
La Travesía del Atleta Gay (CNN en Español)
OUTSTANDING TV JOURNALISM – NEWS MAGAZINE
"Felipe Najera abre su corazón" Primer Impacto (Univision)
"Michael Sam confiesa su homosexualidad" Sin Límites
(CNN Latino)
"Orlando Cruz habla de su vida" Al Rojo Vivo (Telemundo)
"Vínculos y rupturas" Aquí y Ahora (Univision)
OUTSTANDING TV JOURNALISM SEGMENT
"Corte Suprema de Justicia en EE.UU decline estudiar recursos
sobre bodas del mismo sexo" Informativo NTN (NTN24)
"Posibles sanciones" Noticiero Telemundo (Telemundo)
"La historia de una [mujer] transexual" Café CNN (CNN en
Español)
"Obama apoya la comunidad transgénera" Noticias MundoFOX
(MundoFOX)
"Ya no hay obstáculos" Noticiero Univision (Univision)
OUTSTANDING LOCAL TV JOURNALISM
En centros de detención" Noticias Telemundo Arizona
(KTAZ-Telemundo 39 [Phoenix])
"Cobertura de Spirit Day" [serie] Noticias 34
(KMEX-Univision 34 [Los Angeles])
"Justicia para Zoraida Reyes" Noticiero Telemundo
(KVEA-Telemundo 52 [Los Angeles]
"Nombran a la primer mujer gay al Tribunal Supremo de
Puerto Rico" Ultima Hora (Univision [Puerto Rico])
"Tacones de charro" Noticias 34 (KMEX-Univision 34
[Los Angeles])
OUTSTANDING NEWSPAPER ARTICLE
"Caravana gay en contra la marginalidad social"
by Panky Corcino (El Diario New York)
"¿Es la TV latina homofóbica? La respuesta te sorprenderá."
by Marta Sarabia (La Opinión)
"Gay, indocumentado y sin cuidados médicos" by Patricia A
González-Portillo (La Opinión)
"Latino gay elegido alcalde de Long Beach responde a ataques
homofóbicos" by Olivia Tallet (La Voz de Houston)
"Mamá, soy homosexual dijo Ricardo; su familia no entendió
y lo corrió de su casa" by Selene Rivera (Hoy Los Angeles)
OUTSTANDING DIGITAL JOURNALISM ARTICLE
"Identidades invisibles" [serie] by Marcos Billy Guzmán
(ElNuevoDia.com)
"Identidad sin fronteras, un documental sobre los
inmigrantes transgénero" (PeopleenEspañol.com)
"Una misión: repartir amor" by Istra Pacheco
(PrimeraHora.com)
"¿Qué tan difícil es salir del clóset en Colombia?"
(BBCMundo.com)
"Ser gay en China: La bandera del arco iris ondea
libremente" (CNNEspanol.CNN.com)
OUTSTANDING DIGITAL JOURNALISM – MULTIMEDIA
"Derechos de los homosexuales entran a la campaña electoral
en Brasil" by Shasta Darlington (CNNEspanol.CNN.com)
"Hispanos LGBT quieren su propia reforma" by Álvaro Ortiz
(LaVozTX.com)
"Maité Oronoz jura como juez asociada del Tribunal Supremo"
by Rebecca Bamuchi  (PrimeraHora.com)
"¿Que es ENDA?" by Cary Tabares (Univision.com)
"Venezuela: Madre lesbiana pide al Parlamento reconocer
derechos de su hijo" (EFE.com)
OUTSTANDING INDIVIDUAL EPISODE
"Deep Breath" Doctor Who (BBC America)
"Down a Tree" Good Luck Charlie (Disney Channel)
"Identity Crisis" Drop Dead Diva (Lifetime)
"Let's Have a Baby" Playing House (USA Network)
"No Lack of Void" Elementary (CBS)
OUTSTANDING TV MOVIE OR MINI-SERIES
The Normal Heart (HBO)
OUTSTANDING DOCUMENTARY
The Case Against 8 (HBO)
L Word Mississippi: Hate the Sin (Showtime)
Laverne Cox Presents: The T Word (Logo / MTV)
To Russia with Love (Epix)
True Trans With Laura Jane Grace (AOL Originals)
OUTSTANDING REALITY PROGRAM
Big Freedia: Queen of Bounce (Fuse)
B.O.R.N. to Style (FYI)
Make or Break: The Linda Perry Project (VH1)
R&B Divas: Atlanta (TV One)
Survivor: San Juan del Sur (CBS)
OUTSTANDING DAILY DRAMA
Days of Our Lives (NBC) General Hospital (ABC)
OUTSTANDING MUSIC ARTIST
Against Me!, Transgender Dysphoria Blues (Xtra Mile Recordings)
Angel Haze, Dirty Gold (Island Records/Republic Records)
Mary Gauthier, Trouble & Love (In the Black Records)
Mary Lambert, Heart on My Sleeve (Capitol Records)
Sam Smith, In the Lonely Hour (Capitol Records)
OUTSTANDING COMIC BOOK
Hawkeye, escrito por Matt Fraction (Marvel Comics)
Lumberjanes, escrito por Noelle Stevenson, Grace Ellis (BOOM! Studios)
Memetic, escrito por James Tynion IV (BOOM! Studios)
Rat Queens, escrito por Kurtis J. Wiebe (Image Comics)
Saga, escrito por Brian K. Vaughan (Image Comics)
OUTSTANDING TALK SHOW EPISODE
"Issues Facing the Transgender Community" Katie (syndicated)
"Laverne Cox Discusses 'The T Word'" The View (ABC)
"Michael Sam" Oprah Prime (OWN)
"Pepe Julian Onziema" Last Week Tonight With John Oliver (HBO)
"Robin Roberts" The Ellen DeGeneres Show (syndicated)
OUTSTANDING TV JOURNALISM – NEWSMAGAZINE
"Coming Out" Nick News With Linda Ellerbee (Nickelodeon)
"Gay and Muslim in America" America Tonight (Al Jazeera America)
"Gay Rodeo" This is Life with Lisa Ling (CNN)
"Infield & Out: Baseball for All" Morning Joe (MSNBC)
"Transgender Society" [series] Ronan Farrow Daily (MSNBC)
OUTSTANDING TV JOURNALISM SEGMENT
"Change is Coming to the South" Melissa Harris-Perry (MSNBC)
"Fired for Being Gay?" MSNBC Live (MSNBC)
"License to Discriminate?" Anderson Cooper 360 (CNN)
"A Model With a Mission" Alicia Menendez Tonight (Fusion)
"Transgender Tipping Point?" This Week (ABC)
OUTSTANDING NEWSPAPER ARTICLE
"A Christian Family, a Gay Son and a Wichita Father's Change of Heart" por Roy Wenzl (The Wichita Eagle)
"For Transgender Service Members, Honesty Can End Career" por Ernesto Londoño (The Washington Post)
"An Identity to Call Their Own" [series] por Michael A. Fuoco & Mackenzie Carpenter (Pittsburgh Post-Gazette)
"Longtime Utah LGBT Advocates Recount Brutal History" por Erin Alberty (Salt Lake City Tribune)
"When They Stopped Waiting" por Shaun McKinnon (The Arizona Republic)
OUTSTANDING MAGAZINE ARTICLE
"Do Ask, Do Tell" by S.L. Price (Sports Illustrated)
"The Forsaken" by Alex Morris (Rolling Stone)
"Inside the Iron Closet: What It's Like to Be Gay in Putin's Russia" by Jeff Sharlet (GQ)
"Sex Without Fear" by Tim Murphy (New York)
"The Transgender Tipping Point" by Katy Steinmetz (Time)
OUTSTANDING MAGAZINE OVERALL COVERAGE
Essence
Glamour
Out
Sports Illustrated
Time
OUTSTANDING DIGITAL JOURNALISM ARTICLE
"31 Days of PrEP" [series] (Advocate.com)
"Black Parents, Gay Sons and Redefining Masculinity" por Edward Wyckoff Williams (TheRoot.com)
"Conner Mertens Came Out to His College Football Team. Now He Comes Out Publicly." por Cyd Zeigler (Outsports.com)
"A Nun's Secret Ministry Brings Hope to the Transgender Community" por Nathan Schneider (America.Aljazeera.com)
"A Year Later, 'Nothing' Has Changed Since Transgender Woman Islan Nettles was Killed" por Tony Merevick (Buzzfeed.com)
OUTSTANDING DIGITAL JOURNALISM –
MUL TIMEDIA
"Left Behind: LGBT Homeless Youth Struggle to Survive on the Streets" by Miranda Leitsinger (NBCNews.com)
"Why Did the U.S. Lock Up These Women With Men?" by Cristina Costantini, Jorge Rivas, Kristofer Ríos (Fusion.net)
"With Technology I Didn't Have to Sell My Body" by Kerri Pang (MSNBC.com)
"Young and Gay: Jamaica's Gully Queens" by Adri Murguia, Christo Geoghegan (News.Vice.com)
"Young and Gay in Putin's Russia" by Milene Larsson (News.Vice.com)
OUTSTANDING BLOG
The Art of Transliness (theartoftransliness.com)
Autostraddle (autostraddle.com)
Box Turtle Bulletin (boxturtlebulletin.com)
Holy Bullies and Headless Monsters (holybulliesandheadlessmonsters.blogspot.com)
My Fabulous Disease (marksking.com)
SPECIAL RECOGNITION
Dragon Age: Inquisition (BioWare/Electronic Arts)
"Era Diferente" Los Tigres del Norte