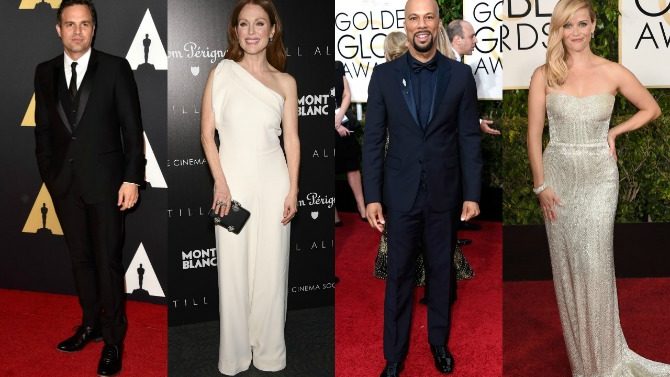 Es uno de los días más esperados por los cineastas, actores, directores, productores y entusiastas del cine.
Los nominados al premio más anhelado en Hollywood se anunciaron la mañana del 15 de enero, entre las películas más nominadas son "Birdman" "Boyhood" "The Grand Budapest Hotel" y "The Imitation Game".
Mark Ruffalo, Julianne Moore, Reese Witherspoon, y el músico Common fueron unos de los nombrados como nominados a llevarse la estatuilla.
Felices y muy agradecidos, acudieron a las redes sociales para expresar su emoción:
Mark Ruffalo fue nominado por "Foxcatcher" como Mejor Actor de Reparto.
Julianne Moore fue nominada a Mejor Actriz por "Still Alice".
Los músicos John Legend y Common entraron a la contienda de Mejor Canción Original con "Glory" de la cinta "Selma".
Reese Witherspoon compartió esta imagen con Laura Dern, ambas fueron nominadas por "Wilde" Reese como Mejor Actriz y Laura como Mejor Actriz de Reparto.
A través de un comunicado, Emma Stone, nominada como Mejor Actriz de Reparto por "Birdman" dijo:
"Pues esto es irreal. Estoy completamente sorprendida. Gracias a la Academia por este gran honor. Estoy muy orgullosa y tuve mucha suerte de ser parte de 'Birdman' no puedo creer que llegó hasta esto. Estoy muy (f***ing) emocionada. Se puede decir f***ing en un comunicado? Es que estoy muy f***ing emocionada".
Eddie Redmayne, nominado en la categoría Mejor Actor por "The Theory of Everything" expresó:
"Estoy increíblemente honrado de ser reconocido por la Academia, y aún más emocionado de poder compartir este honor con la familia completa de la producción de 'The Theory of Everything'. Este papel fue una experiencia como ninguna otra. Felicidades a y mis colegas nominados, gracias a la Academia, y más que nada gracias a Stephen y Jane Hawking".
¡Felicidades a todos los nominados!