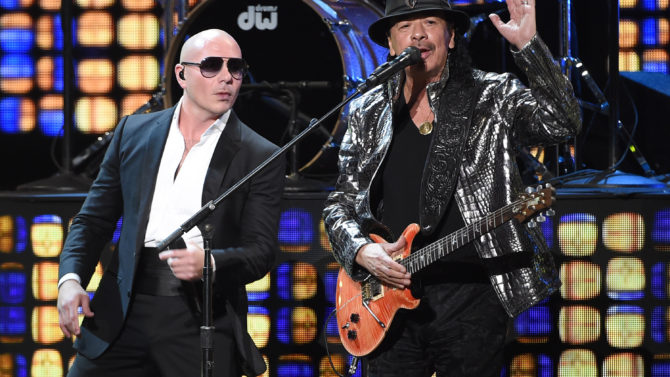 Carlos Santana es uno de los músicos latinos más codiciados a la hora de hacer duetos. Grandes representantes de la música hispana como Gloria Estefan, Romeo Santos y Pitbull han sido bendecidos en el escenario -al menos una vez- por los majestuosos acordes de su guitarra. El nativo de Jalisco, México tiene 10 premios Grammys y tres Latin Grammys bajo el brazo. Además, fue inducido al Rock and Roll Hall of Fame y de acuerdo a la revista Rolling Stone, es uno de los 100 mejores guitarristas del mundo.
En honor a su cumpleaños número 68, Variety Latino te presenta 10 duetos inolvidables de este maestro de la música:
1. "Dar Um Jeito" (himno oficial del Mundial 2014) con Wyclef y Alexandre Pires
2. "Feel It Coming Back" con Diego Torres
VER TAMBIÉN Carlos Santana celebra herencia latina lanzando mini-documental de concierto en México
3. "I'm Feeling You" con Michelle Branch
4. "Smooth" con Rob Thomas
5. "La Flaca" con Juanes
VER TAMBIÉN Carlos Santana hace historia con su música
6. "Margarita" con Romeo Santos
7. "Besos de Lejos" con Gloria Estefan
8. "Oye Como Va" con Pitbull
9. "Indy" con Miguel
10. "Corazón Espinado" con Maná
¿Cuál es tu colaboración favorita?