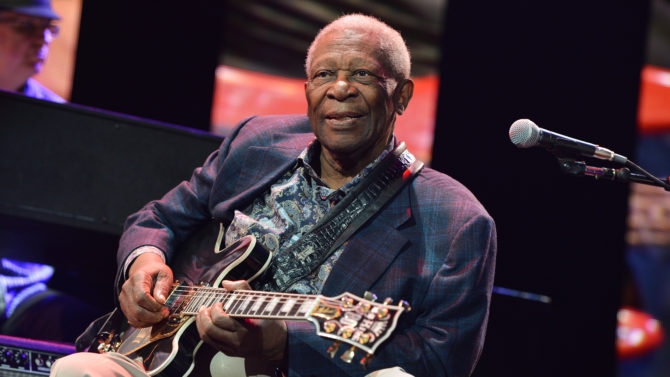 Sin lugar a duda, el legado musical que nos deja B.B. King seguirá inspirando a futuros músicos y continuará siendo una gran influencia en la música de hoy en día. Así como lo fue para Carlos Santana y Jimi Hendrix , quienes de alguna manera siguieron los pasos de esta leyenda cuando iniciaban sus carreras.
B.B. King murió el jueves 14 de mayo y para celebrar lo que fue, el Rey del Blues, lo recordamos a través de estas cinco canciones que distinguen el estilo y talento único del gran B.B. King acompañado de su guitarra, "Lucille".
"Three O'Clock Blues" (1951): El cuarto sencillo de B.B. King que se convertiría en una canción número de R&B.
"Every Day I Have the Blues" (1955): King alcanzó el éxito y el reconocimiento como el Rey del Blues con este tema cuya versión original es de los Spark Brothers.
"Why I Sing the Blues" (1969): Con esta canción, King cuenta la experiencia e historia de los afroamericanos.
"Chains and Things" (1970): Este tema pop/rock cuenta con la participación de Carole King en el piano.
"To Know You Is to Love You" (1973): Stevie Wonder y Syreeta Wright co-escribieron esta canción que formó parte del álbum de B.B. King en 1973.
¿Cuál es tu favorita?