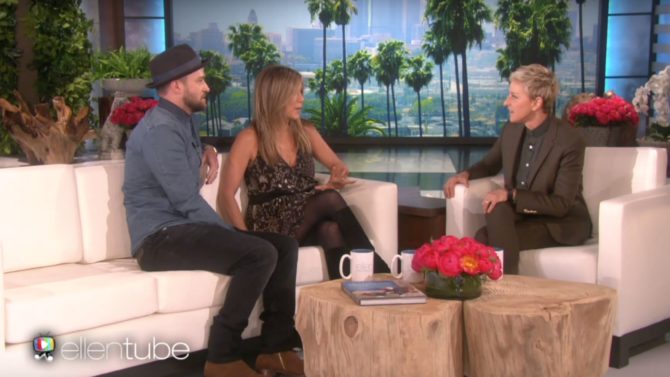 The Ellen DeGeneres Show está de fiesta. Este jueves el popular programa marcó su episodio número 2000 mil, y para celebrarlo, la comediante tuvo unos invitados muy importantes: Jennifer Aniston y Justin Timberlake.
Los famosos sorprendieron a la animadora, quien no tenía idea de la aparición de estos invitados pues los productores mantuvieron todo en secreto. La primera en aparecer fue Aniston, quien trajo como regalo un tapete que decía "bienvenida", tal como lo hizo en el primer episodio de The Ellen DeGeneres Show en 2003. La actriz de Friends fue la primera invitada de este famoso programa.
"Te diré algo, si alguien me hubiera dicho que iba a hacer 2000 shows, hubiera pedido más dinero desde un comienzo", bromeó la animadora.
Luego apareció Timberlake, quien fuera el invitado del segundo episodio del show en 2003. Finalmente llegó al show Peter Roth, jefe de contenido de Warner Bros. Television, quien traía consigo una importante noticia: Un estudio del canal fue bautizado con el nombre de la presentadora.
No te pierdas los clips con las sorpresas para Ellen a través de los siguientes enlaces:
¡Felicidades, Ellen!