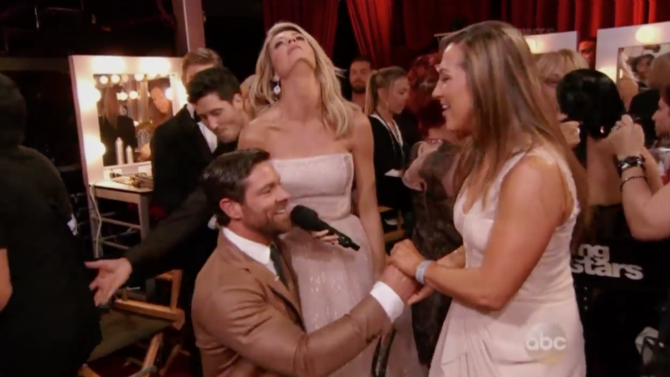 Una imagen vale más que mil palabras y es por eso que Erin Andrews ha sido tachada como "antipática", "sangrona" y "nefasta" tras su reacción durante un momento romántico en la edición del lunes de Dancing With The Stars (ABC).
Todo sucedió cuando la conductora del show de baile reaccionó con un gesto muy desconcertante cuando el concursante Noah Galloway le propuso matrimonio a su novia, Jamie Boyd, en pleno programa.
Pareciera que mientras la mayoría de los televidentes suspiraban al unísono ¡aww!, Andrews se molestaba con un ¡ugh!. Juzguen por ustedes mismos:
Luego de que las críticas empezaran a llover en Twitter, Andrews se defendió y dijo que su reacción habría sido mal interpretada y que más bien hizo cara de "voy a llorar" por el momento tan tierno.
Algunos tuiteros hasta dijeron que Andrews parecía que estaba celosa.
Para justificar su reacción, la presentadora subió esta foto donde felicitó a la pareja y dijo "Qué momento … Disculpen que mi cara fea de 'voy a llorar' haya hecho su debut. Los quiero".
Ustedes qué opinan, ¿Andrews hizo cara de 'voy a llorar' o de disgusto?