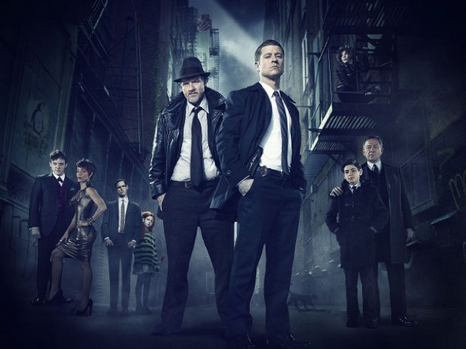 DC Comics aprovechó su panel para confirmar la segunda temporada de una de sus más recientes series de televisión: Gotham.
Fue una conferencia muy intensa y emocionante, ya que el actor Cameron Monaghan le robó el micrófono a un fanático mientras éste le estaba haciendo preguntas al panel. Monaghan interpreta a Jerome, un personaje sombrío que poco a poco se ha dejado ver como el icónico villano The Joker. Mientras era arrastrado por el personal de seguridad del Hall H, el actor no se salió nunca de personaje, propinando gritos al resto del elenco. La multitud enloqueció, como era de esperarse.
VER TAMBIÉN 'Gotham' llegará a Netflix luego de su primera temporada
Aquí puedes ver una foto reciente de Monaghan en personaje:
Ben McKenzie, quien interpreta a Jim Gordon, aprovechó el panel para hablar sobre el desarrollo de su personaje, quien promete seguir protegiendo a la ciudad de los villanos. "A medida que los villanos se elevan, los buenos tienen que aumentar su fuerza también", agregó el joven actor.

La primera temporada se enfocó en darle a conocer a la audiencia la historia de la ciudad. Esta segunda temporada hará un enfoque en los villanos, y tendrá como lema "The Rise of the Villans".

VER TAMBIÉN Jada Pinkett Smith deja 'Gotham'