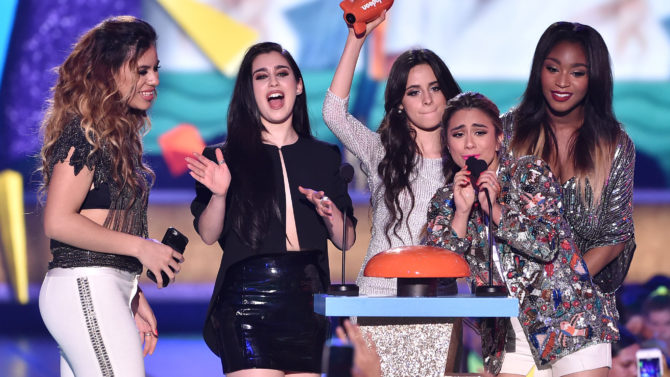 La juventud se hizo sentir en Los Ángeles este 28 de marzo al llevarse a cabo los tan esperados Kids Choice Awards. Los fuertes rayos del sol ni las altas temperaturas detuvieron a que los pequeños salieran a apoyar a sus artistas favoritos de Nickelodeon y un sinnúmero de fans se dieron cita en The Forum. Desde Dulce María, Cody Simpson, Iggy Azalea, Nick Cannon, y muchos otros más desfilaron por la alfombra anaranjada antes de entrar a la ceremonia que tuvo a Nick Jonas como anfitrión.
Entre los grandes ganadores de los blimp statues fueron Modern Family, Fifth Harmony, Emma Stone, Dulce María, Liam Hemsworth y Angelina Jolie acompañada por sus hijas Zahara y Shiloh quienes se mostraron felices al escuchar que su mamá había ganado el premio como Mejor Villana.
Y claro las actuaciones musicales no pudieron faltar pues al escenario subieron artistas como Iggy Azalea junto a Jennifer Hudson y el mismo conductor de la noche.
Embed from Getty Images
Embed from Getty Images
Aquí la lista completa de los ganadores:
Favorite Movie Actress
Angelina Jolie
Cameron Diaz
Elle Fanning
**Emma Stone (ganadora)
Jennifer Garner
Megan Fox
Favorite Family TV Show
Gotham
Shield
**Modern Family (ganador)
Once Upon A Time
Big Bang Theory
Flash
Favorite TV Show
**Austin & Ally (ganador)
Dog With A Blog
Every Witch Way
Henry Danger
Jessie
Nicky, Ricky, Dicky & Dawn
Favorite TV Actress
Chloe Bennett
Debby Ryan
Jennifer Morrison
**Laura Marano (ganadora)
Kira Kosarin
Kaley Cuoco-Sweeting
Favorite TV Actor
Benjamin Flores, Jr
Charlie McDermott
Grant Gustin
Jack Griffo
**Ross Lynch (ganador)
Jim Parsons
Favorite New Artist
Five Seconds of Summer
Echosmith
**Fifth Harmony (ganadoras)
Iggy Azalea
Jessie J
Meghan Trainor
Favorite Cartoon
Adventure Time
Phineas & Ferb
**Spongebob Squarepants (ganador)
Teenage Mutant Ninja Turtles
Teen Titans Go!
The Fairly Odd Parents
Most Addicting Game
Angry Birds Transformers
Candy Crush
Disney Infinity 2.0
Mario Kart 8
**Minecraft (ganador)
Skylanders Trap Team
Favorite Villain
**Angelina Jolie – Maleficent (ganadora)
Cameron Diaz – Annie
Donald Sutherland – The Hunger Games
Jamie Foxx – The Amazing Spider-Man 2
Lee Pace – Guardians of the Galaxy
Meryl Streep – Into The Woods
Favorite Reality Show
American Ninja Warrior
Cupcake Wars
**Dance Moms (ganador)
Masterchef Junior
Shark Tank
Wipeout
Favorite Talent Competition Show
America's Got Talent
America's Next Top Model
American Idol
Dancing With The Stars
So You Think You Can Dance
**The Voice (ganador)
Favorite Movie
Guardians of the Galaxy
Maleficent
Teenage Mutant Ninja Turtles
The Amazing Spider-Man 2
**The Hunger Games: Mockingjay – Part 1 (ganadora)
Transformers: Age of Extinction
Favorite Movie Actor
**Ben Stiller (ganador)
Hugh Jackman
Jamie Foxx
Mark Wahlberg
Steve Carell
Will Arnett
Favorite Animated Movie
**Big Hero 6 (ganador)
How To Train Your Dragon 2
Penguins of Madagascar
Rio 2
The Lego Movie
The Spongebob Movie: Sponge Out Of Water
Favorite Male Action Star
Andrew Garfield
Channing Tatum
Chris Evans
Chris Pratt
Hugh Jackman
**Liam Hemsworth (ganador)
Favorite Female Action Star
Ellen Page
Evangeline Lilly
Halle Berry
**Jennifer Lawrence (ganadora)
Scarlett Johansson
Zoe Saldana
Favorite Music Group
Coldplay
Fall Out Boy
Imagine Dragons
Maroon 5
**One Direction (ganadores)
OneRepublic
Favorite Male Singer
Blake Shelton
Bruno Mars
Justin Timberlake
**Nick Jonas (ganador)
Pharrell Williams
Sam Smith
Favorite Female Singer
Ariana Grande
Beyonce
Katy Perry
Nicki Minaj
**Selena Gomez (ganadora)
Taylor Swift
¡Felicidades a todos los ganadores!