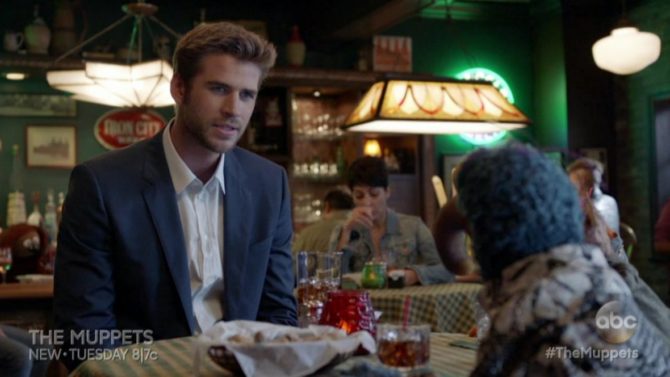 Liam Hemsworth aparecerá en el próximo capítulo de The Muppets. La noticia viene acompañada de un vistazo a la participación especial del guapo actor australiano donde se le puede ver al lado de Gonzo, Pepe y Rizzo.
En el clip el actor piensa que fue citado para reunirse con Miss Piggy, pero la verdad es que Gonzo quiere consejos para conquistar a una chica.
"Si no logra conquistar a esta mujer, él no tendrá una razón para vivir (…) Probablemente tú también fuiste uno de esos niños extraños que tuvieron problemas con chicas hasta que te convertiste en galán, ¿no?", le pregunta Pepe a Liam. "No, yo he sido hermoso desde que nací", responde Hemsworth en el cómico adelanto mientras acepta ayudar a la desesperada marioneta. ¡Acá tienes la escena completa!
Los rumores de una posible aparición del protagonista de The Hunger Games en el show surgieron luego de que este compartiera una foto en su Instagram junto a Miss Piggy:
¿Será que Gonzo logra conquistar a esta chica con la ayuda de Hemsworth? Si quieres saber la respuesta a esta interrogante no te pierdas The Muppets todos los martes a las 8 P.M. a través de ABC.