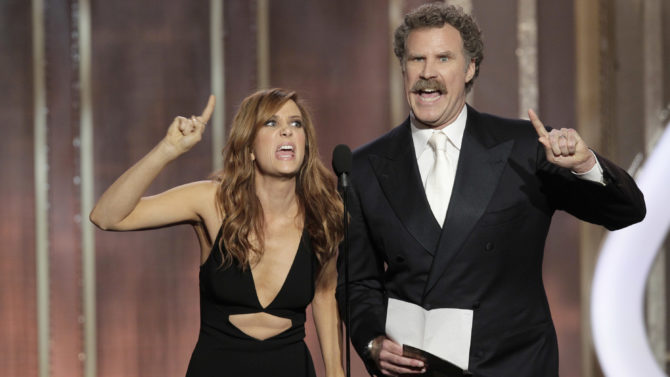 ACTUALIZACIÓN 4/3: 
Por decisión de Will Ferrell y Kristen Wiig nunca veremos "A Deadly Adoption" según informa EW. Los actores culparon a la prensa de filtrar su proyecto sorpresa y por eso decidieron ponerle fin a la producción: "Estamos muy decepcionados que nuestro proyecto se haya hecho público. Kristen y yo hemos decidido que por el mejor interés de todos dejemos este proyecto, pero queremos agradecer a Lifetime y a la gente que estaba lista para ayudarnos con esta película", dijo Ferrell a través de un comunicado.
Ahora empezamos a cuestionar si en realidad algún día existió esta cinta o tal vez todo haya sido parte de una muy mala broma de April Fool's Day.
———————————————————————–
Will Ferrell y Kristen Wiig protagonizarán película de Lifetime "A Deadly Adoption" que estrenará este verano. Reportes confirman que Ferrell y Wiig serán esposos en la cinta donde cuidan y le dan refugio a una mujer embarazada (Jessica Lowndes) con la ilusión de adoptar al bebé que está por nacer. Pero las cosas no salen como habían planeado y todo da un giro inesperado.
Basada en la mini-serie "The Spoils of Babylon" y dirigía por Rachel Lee Goldenberg, la peli de drama y suspenso también contará con un toque de comedia, algo que no podía faltar tomando en cuenta sus protagonistas. "A Deadly Adoption" formará parte de la cartelera de películas que celebrarán el aniversario número 25 de Lifetime Movies. Según el informe, la peli ya fue filmada y ahora está en post-producción.
No es la primera vez que Wiig y Ferrell trabajan juntos pues recientemente los vimos en "Anchorman 2: The Legend Continues". Hace unos días Ferrelll recibió su estrella en el Paseo de la Fama y también se acaba de estrenar su película junto a Kevin Hart "Get Hard". Por otra parte, el primer trailer de "Masterminds", la próxima peli de Wiig, acaba de estrenar donde la vemos junto a Zach Galifianakis.
Los mantendremos al tanto de la fecha de estreno.