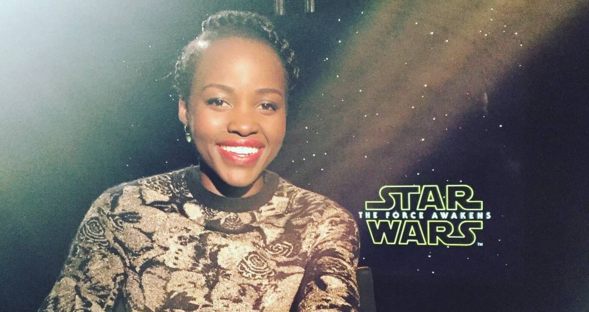 ¡Lupita Nyong'o ya tiene un emoji!
Con motivo del lanzamiento del Blu-ray y el DVD de Star Wars: The Force Awakens el 5 de abril, desde ya los fanáticos de esta saga podrán descargar el emoji de Maz Kanata, personaje interpretado por Nyong'o.
Para adquirir el emoji es necesario descargar la aplicación oficial del filme, la cual también incluye videos especiales y notificaciones relacionadas con el mundo de Star Wars. 
El Blu-ray estará disponible en un "combo pack", lo que significa que el público podrá conocer la historia completa detrás de la filmación de Star Wars: The Force Awakens.  "Se revelarán secretos, escenas nunca antes vistas, y entrevistas exclusivas con los actores y cineastas", dice el comunicado de prensa en relación al contenido adicional que tendrá la edición casera de la cinta.
Algunos de los materiales extras se titulan Building BB-8, un featurette donde se explicará cómo se creó este nuevo droid, Crafting Creatures, otro especial donde le podrás echar un vistazo a las criaturas del universo de Star Wars y The Story Awakens: The Table Read, donde los actores hablan sobre su primer día en el set.
La más reciente entrega de la popular saga logró recaudar $926 millones de dólares en Estados Unidos y $2.05 mil millones a nivel mundial.