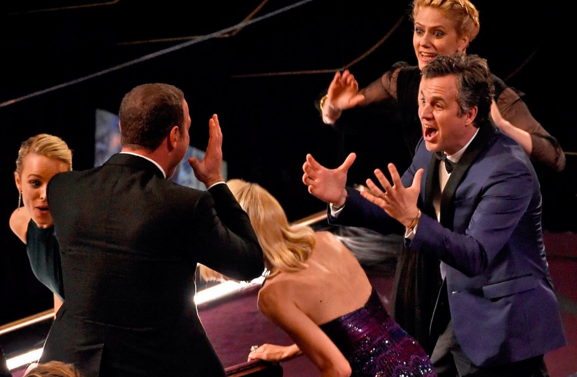 Este domingo 28 de febrero se celebraron los premios más importantes del mundo del cine: los Oscar. La ceremonia se llevó a cabo en el famoso Dolby Theater de Los Ángeles, lugar que reunió a lo mejor de Hollywood y donde se premió a las películas más prominentes de la temporada.
Spotlight ganó en la prestigiosa categoría de Mejor película durante la entrega número 88 de estas estatuillas. Sin duda alguna, esta fue la competencia más reñida de todas con ocho largometrajes compitiendo por el venerado premio. El filme logró imponerse sobre The Big Short, Bridge of Spies, Brooklyn, Mad Max: Fury Road, The Martian, The Revenant y Room.
El director Tom McCarthy expresó que la meta de Spotlight es crear "una voz que se convierta en un coro que resuene hasta el Vaticano", para que de esta manera los sobrevivientes de abusos sexuales tengan una representación importante. A la hora de recibir el galardón, el resto del elenco agradeció la labor de los periodistas alrededor del mundo, ya que si no fuese por ellos la producción no hubiese sido posible. 
Luego de la victoria de Spotlight, el Boston Globe lanzó en las redes sociales una invitación dirigida a todos los periodistas jóvenes que quieran trabajar con el grupo de comunicadores que inspiró la historia de la película.
La velada, que duró unas tres horas y media, fue amenizada por Chris Rock quien hizo hincapié en la falta de oportunidades que tienen los actores de raza negra en Hollywood.