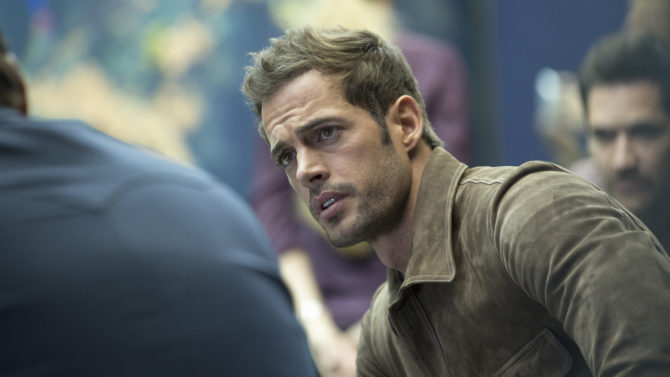 William Levy forma parte del elenco de Term Life, una película de suspenso donde hará el papel de Alejandro, el hijo de Víctor Fuentes (Jordi Molla), el líder de un peligroso cartel mexicano. Variety Latino tiene imágenes exclusivas del actor cubano en la cinta, cortesía de nuestros amigos de Focus World.
Cortesía de FOCUS WORLD
Cortesía de FOCUS WORLD
El filme, dirigido por Peter Billingsley, es protagonizado por Vince Vaughn y Hailee Steinfeld. La historia sigue la vida de Nick (Vaughn), un hombre de negocios que abrió una póliza de seguros donde nombra a su hija (Steinfeld) como la principal heredera. Todo se complica cuando lo buscan para matarlo, es ahí cuando Nick tratará de sobrevivir por 21 días hasta que la póliza entre en efecto.
El elenco lo completan Vince Vaughn, Hailee Steinfeld, Bill Paxton, Jonathan Banks, Mike Epps, Jordi Molla, Shea Whigham, Jon Favreau, Taraji P. Henson, Annabeth Gish y Terrence Howard. Term Life se estrena en cines, iTunes y video on demand el próximo 29 de abril.
También veremos a Levy en Resident Evil: The Final Chapter. El actor filmó escenas en Cape Town, Sudáfrica, para la última entrega de la franquicia de terror, donde comparte créditos con la actriz Ali Larter.
Por si fuera poco, el actor también forma parte del elenco de The Veil. La película de acción cuenta la historia de Aysel, un hombre que lidera una guerra destructiva cuando es traicionado por su propio grupo el cual lo deja a la deriva. The Veil aún no tiene fecha de estreno.
Disfruta del primer tráiler de Term Life: