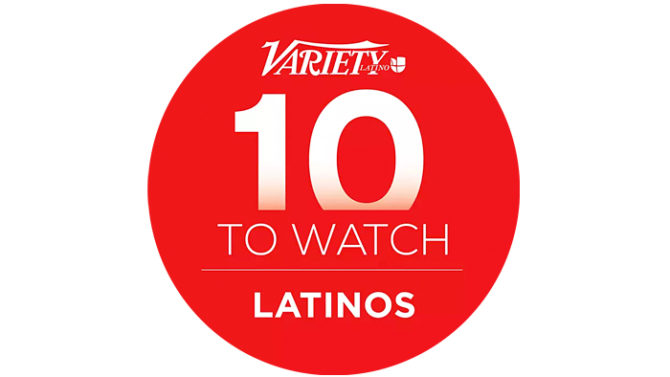 Como parte de la celebración del Mes de la Herencia Hispana, Variety Latino presenta su segunda lista anual de los '10 Latinos to Watch', con la que reconocemos a 10 latinos emergentes que se destacan en la industria del cine, la televisión y las distintas plataformas digitales en Estados Unidos.
Este año, nuestra lista está compuesta por ocho actores, una estrella de YouTube que empieza a dar pasos firmes en la actuación, y el productor ejecutivo de la exitosa serie Jane The Virgin, de la cadena The CW.
Y nuestros '10 Latinos to Watch' son:
Alfonso Herrera (Sense8, The Exorcist), Eiza González (From Dusk Till Dawn: The Series, Baby Driver), Carlos PenaVega (Big Time Rush, Grease Live!, Elephant Kingdom), Melissa Fumero (Brooklyn Nine Nine, DriverX), Eric Ochoa (estrella YouTube, Mono, Single by 30), Allen Maldonado (The Equalizer, Straight Outta Compton, Black–ish), Anabelle Acosta (Quantico, Ballers), Jorge Granier (productor ejecutivo de Jane The Virgin), Alicia Sanz (From Dusk Till Dawn: The Series, Billionaire Boys Club, Shots Fired), y Richard Cabral (Southland, American Crime, Lethal Weapon).
FOTOS Conoce a nuestros '10 Latinos to Watch' 2016
Estaremos festejando en grande los logros de este talentoso grupo de jóvenes durante una fiesta en su honor, el próximo miércoles 28 de septiembre, en Los Ángeles. Durante esta fiesta también estaremos reconociendo la extensa trayectoria artística de la legendaria actriz y cantante puertorriqueña Rita Moreno, a quien le otorgaremos el Legacy Award.
La carrera de nuestros '10 Latinos to Watch' y la trayectoria de la gran Rita Moreno también serán destacados en la revista Variety, en su edición del martes 27 de septiembre.
No te pierdas toda nuestra cobertura de nuestros '10 Latinos to Watch' aquí.