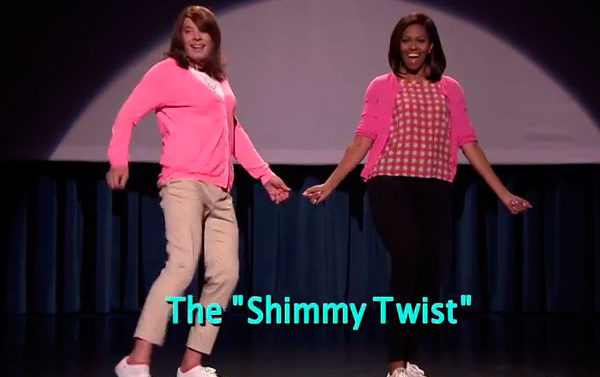 Atención mamás, la Primera Dama y Jimmy Fallon les tienen los mejores nuevos pasos de baile para que presuman ante sus hijos y claro otras mamás. Michelle Obama regresó al programa de The Tonight Show para mostrar "pasos de mamá" parte dos ya que se encuentra celebrando el aniversario número cinco de su campaña "Let's Move", obviamente no hay manera más divertida para quemar calorías que moviendo el esqueleto.
Entre los nuevos pasos están: "I Can Still Do This Dance Because My Arms Are in Shape" y "Oh My God, I Didn't Know You Were Coming Here"! ¿Cuál es tu favorito?
Luego de que terminaron de bailar, Jimmy y la esposa del Presidente Barack Obama platicaron sobre la importancia de la música en la vida de Michelle: "Siempre estoy escuchando música, es la forma en la que puedo relajarme", confiesa la Primera Dama.
Y obviamente como madre de dos adolescentes, Michelle siempre se mantiene al tanto de nuevos géneros, todas las canciones que están in en este momento y lo que no tiene que escuchar, "Estoy en esa etapa en la que mis hijas me presentan su música y me dicen, 'mamá no quieres oír esto, tiene muy malas palabras', y yo estoy como 'y ¿qué haces tú oyéndolo?'".
Por lo tanto, el mandatario estadounidense y su familia se encuentran en plenos preparativos para el evento anual de Día de Pascua donde invitan a niños a los jardines de la Casa Blanca para el Easter Egg Rull and Hunt que se llevará a cabo el 6 de abril.