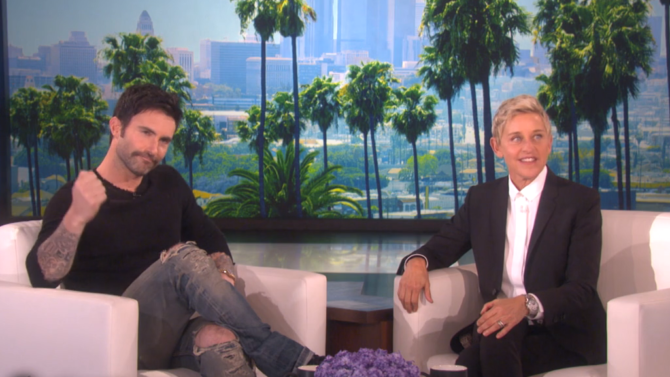 Parece ser que fue Ellen DeGeneres quien escogió el nombre de la recién nacida hija de Adam Levine y Behati Prinsloo.
Levine fue el invitado más reciente al The Ellen DeGeneres Show, y durante su entrevista con la anfitriona del show reveló cómo él y su esposa tomaron la decisión de nombrar a su hija Dusty Rose. El vocalista de Maroon 5 explicó que originalmente tenía otro nombre en mente para su bebé, pero cuando se lo envió por mensaje de texto a DeGeneres, esta le dijo rápidamente que no le gustaba.
"Pensé, 'ya tengo el nombre perfecto', y se lo envié a Ellen por mensaje de texto como que '¿Qué crees?'. Y ella me dijo: 'Lo odio, creo que es un nombre terrible'", Levine contó, y agregó que fue en ese momento cuando DeGeneres le envió una lista de sugerencias, entre las cuales se encontraba Dusty Rose. "Básicamente, tú le pusiste nombre a mi hija," dijo el músico a Ellen.
Adam y la modelo de Victoria's Secret le dieron la bienvenida a Dusty Rose el pasado 21 de septiembre.
Levine y Prinsloo se convirtieron en marido y mujer en julio de 2014, en México. Un mes antes de la boda, el juez del popular programa The Voice expresó que en los planes de ambos estaba tener una familia.